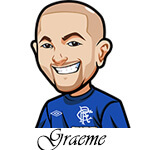 Follow @SBTSportBetting
It was a 1-1 day for a slight profit on Saturday with the Women's World Cup tips.
We had under 2.5 goals in the Cameroon vs Netherlands game. I was hoping that Cameroon would set out defensively however they actually played a more aggressive game than expected. Not going to complain about that as it at least made it an exciting game.
We also had Canada to win to nil. Canada won 2-0 in an extremely dominant performance.
We lost with the risky 2.62 odds play on Sunday on Sweden vs Thailand Under 5.5. Hopefully many of you went with the safer selection I mentioned of under 6.5. As it is, it was a brutal loss with a 91st minute goal and then a 96th minute penalty.
I took the over in the USA vs Chile game and that didn't pan out. Only a 0.5u play though so that's okay. That was one I started regretting after tipping it funnily enough – I was having a discussion with someone about goalies in the tournament, and they were saying there was no good goalies. I argued the Chilean goalie has looked good then thought – wait a minute I just tipped over in that game! Oops! Endler ended up being the decider
Let's get on with the tips for Tuesday, June 18th. Only two games taking place and both are in Group C.
Italy have already qualified and there's a good chance both Brazil and Australia make it through with the third placed team ranking rules.
Jamaica vs Australia Betting Tips:
Jamaica have been the whipping boys(or girls) of the tournament, losing 3-0 to Brazil then 5-0 to Italy.
They go up against Australia who lost 2-1 to Italy but bounced back strong with a feisty performance against Brazil to win 3-2.
Australia are one of those teams that I'm really not sold on. I backed Italy or Draw against them in the opener for a reason.
They go into this one as very heavy favourites no surprise. The handicap for this one is set at -4 which basically says it all.
With them essentially being eliminated, I hope we see a more aggressive game than Jamaica. Against Italy they would often go to build an attack and players were isolated.
This is more just a "I don't rate Australia too highly" type of bet where I am going to back Jamaica to get a goal. They've really not shown much to suggest they will to be honest so it's just a small play at high odds.
(Odds on this page are correct as of 2019/06/17 9:52:39 AM EST but are subject to change)

Italy vs Brazil Betting Tips:
Italy have already qualified and damn they looked sound tactically against Jamaica. Granted it's Jamaica but they looked great. A lot of excellent tactical decisions in that one.
Now they're going up against Brazil who can go through with a draw.
It's an interesting match-up. Brazil would no doubt prefer to win and with the way these two teams play it's hard to see a boring 0-0 type of game. It'll be a good test for Italy to see where they're at.
No-one seems to believe in Italy yet. While I think Brazil are probably the better team, I've been impressed with Italy. They've shown a lot of fight, and they've shown some brilliant tactics.
(Odds on this page are correct as of 2019/06/17 9:52:39 AM EST but are subject to change)

Follow @SBTSportBetting