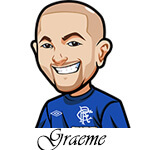 Follow @SBTSportBetting
We kick off March 1st with the biggest XFL game to date as the Houston Roughnecks take on the Dallas Renegades.
We're only three weeks in but those two teams just look a tier above the rest of the XFL and this should be a cracker of a match.
I'm actually going to next weeks Renegades game too. Traveling to Dallas for it. Kind of wish I was at this one at the atmosphere will be electric. However hopefully they at least give the Guardians an absolute beating next week to make that aspect of it fun.
We've got that game taking place on Sunday and also the DC Defenders up against the Tampa Bay Vipers.
Should be quite a good day of XFL action. On paper both games could be thrillers. Let's get to it:
Roughnecks at Renegades Betting Tips:
The Roughnecks are 2.5 point favourites in this one.
They are unbeaten. Week 1 they had a close initial game against the Wildcats before pulling away to win 37-17 at home. Week 2 they handled a feisty Battlehawks team as they won 28-24. Then in Week 3 they had another tight one as they beat the Vipers 34-27.
Dallas you can't count week 1 due to their QB situation. They looked good against the Wildcats and Dragons although they had to rally in that one. Donald Parham is awesome.
PJ Walker is playing fantastic football at the moment. Landry Jones you just feel he is getting better as things go on however he isn't championship level yet. This will be a big test for him.
I think this is could be a crazy game and I just can't pick a winner here. It's a rilvalry game and both teams should be going for it and we should see some immense offensive play. I think the Renegades sneak the win as I think Landry is solid but I will go with a small play on the over instead.
1u on Over 49 pts
Defenders at Vipers Betting Tips:
Defenders are 2.5 point favourites here.
After a great start in the XFL opening game, the Defenders followed that up with a 27-0 win over the Guardians. They were stunned last week though by the Wildcats who beat them 39-9.
The Vipers had their best effort last week in the 34-27 loss to the Roughnecks but remain without a win.
I honestly don't know what happened to the DC Defenders last week but I think it was a rarity and we won't see it again here.
The Vipers are a mess especially at the QB position. They have some drama going on at the moment with Flowers now taking a leave of absense. Cornelius did look solid last week though so maybe they can build on that.
I just think end of the day, DC Defenders are the better team. Take out last weeks weird game and this would be a 7.5 point spread at least. I feel like it is just an overreaction and that the DC Defenders are the better team here, and will continue to pile misery on the Tampa Bay Vipers.
3u on the DC Defenders -2.5
Follow @SBTSportBetting