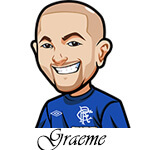 In a game I am really looking forward to, on July 1st Argentina take on Switzerland. The winner of that game will play the winner of Belgium vs USA, which takes place later in the day.
Argentina got here by winning all 3 of their games – yet it was something they didn't do convincingly. Against Bosnia, they got lucky with an early own goal by the Bosnians which forced Bosnia to change everything up. Against Iran, they needed some ridiculous Messi Magic for the final game winner at the end, and against Nigeria they were all over the place in a free flowing game where entertainment seemed to be the main factor.
Switzerland deservedly are in here. They are a solid team who were very lucky against France, exposed more by the French counter attack than anything else. Credit to the Swiss for at least pushing up there. They beat Ecuador in a tight, tight injury time finish which showed they just don't give up, and dominated Honduras, with that Shaqiri hat trick hopefully winning us the 8/1 Top Team Goalscorer bet we had on him!
What We Learned:
Argentina: They really aren't the team to fear as everyone expected. Despite the amount of Messi goals so far – every team has actually contained him well. Not one game yet have they fully controlled or dominated to the point where you can sit there and say "Yep, they're World Cup Winners".
Switzerland: The Swiss have worked hard, getting the big win over Ecuador, and a nice solid performance against Honduras. Their performance against France wasn't bad either despite the scoreline – they were just caught out by the lethal French counter attack when they tried to push, and then their heads went down.
Switzerland vs Argentina Betting Odds:
Switzerland To Win: 6/1
Draw: 10/3
Argentina To Win: 8/15
Over 2.5 Goals: 4/5
Under 2.5 Goals: 1/1
The best odds for Switzerland vs Argentina .
Switzerland vs Argentina Betting Tips:
We're going with the upset – SWITZERLAND TO WIN.
We just haven't been impressed with Argentina at all, especially Leo Messi. Yet he's on 4 goals but he's been marked out of practically every game. And yet if it wasn't for Messi, Argentina probably wouldn't even be here! That's how goddamn good Messi is.
But the 6/1 odds of Switzerland are just too much to ignore. They've looked great. They are a team that play very well together. Prior to the tournament I wouldn't have tipped them here – but after seeing the way most teams have neutralized Messi I have to go with the Swiss. Argentina lacked the ability to break down Iran, and Switzerland are also fairly tough.
Switzerland should still be underdogs for sure – but I think 6/1 is a good price. Based on the World Cup so far, we would personally price the Swiss at 3/1 at most.
Bet Switzerland to win
Switzerland vs Argentina Betting Props:
If you don't want to risk it that much, go with Switzerland or the Draw, or Draw No Bet.