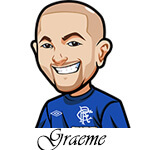 The first game in Group D – Uruguay vs Costa Rica, will have just ended when England and Italy take the field in what is going to be a very interesting match-up.
This game takes place on June 14th 2014 as the middle game – with Ivory Coast vs Japan later on that night. Both teams will already know the result of the previous match – and with Uruguay most likely beating Costa Rica, will already be feeling the pressure.
England and Italy both won their groups to qualify for the World Cup 2014, although England struggled a fair bit against the easier teams. Both teams picked up 6 wins out of 10 games, with Italy having a tougher group.
This should be a really interesting game. They played in Euro 2012 with Italy winning on penalties in what was a tight affair. The two also played a friendly shortly after that, with England coming out winners there.
England vs Italy Betting Odds:
England To Win: 2/1
Draw: 15/8
Italy To Win: 13/8
Over 2.5 Goals: 17/10
Under 2.5 Goals: 4/9
The best odds for England vs Italy are dependent on the sportsbook promotions.
England vs Italy Betting Tips:
To no-ones surprise, the bookies expect this one to be a tight affair.
Italy haven't exactly been blowing anyone away with their form as of late – with a lot of draws in the latter part of the qualification stage, as well as in the friendlies. England finished the qualifications strong, but were a mixed bag when it came to the friendlies.
A lot of questions remain about the England squad too – the big one being Raheem Sterling. If he starts, how will they play him? We saw against Ecuador he was not in his familiar and most lethal role, so it will be interesting to see what happens there.
This is one where the computer system sees no value in the prices, and sadly neither do us. I wish we could tell you to bet on the draw, England to win or Italy to win – but the prices are pretty much spot on in that regard. The Over/Under is the same – both teams have the potential to attack and unlock defenses, but they also have the ability to cancel each other out.
That's not to say there's no bets to make though – the system does have one for us.
England vs Italy Betting Props:
The system has one pick, which is Ciro Immobile to score.
It believes that Italy will get a fair amount of set pieces, and Immobile is perfect for that. The top scorer in Serie A, and our expected top scorer for Italy throughout the World Cup – he is the one to get the goal if Italy do score.
Now the odds on him scoring first or last are 13/2, while anytime are 13/5. But with the 0-0 bore draw special where you get your money back on first or last goalscorer bets – that's where the value comes in Immobile to score.
So go with Ciro Immobile the 1st goalscorer in England vs Italy. Take advantage of that awesome promotion and give yourself some insurance.