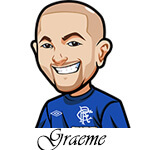 On July 1st, 2014 at 4pm EST, the final knockout game will take place in the 2nd stage of the World Cup. In that one, Belgium will take on the USA. The winners of this match will be up against either Argentina or Switzerland.
Belgium qualified with 3 wins out of 3. They beat Algeria 2-1, Russia 1-0 and then Korea Republic 1-0. They've proved solid if unspectacular in progressing to the next round.
USA have managed to get here really against all the odds. They got an early goal against Ghana, defended almost the whole game then were able to march up and get a goal. They had a much more competitive appearance against Portugal where the Portugese snatched it at the death, and lost 1-0 to Germany in a game where they just had no life or bounce to them.
What We've Learned:
Belgum: Belgium came into the World Cup as 5th favourites, but they haven't shown it. I mean have you sat there throughout their three games and thought "Yep, this team could win the World Cup"? No, not at all. It's a pity too as they have some real exciting players and a versatile team yet we're not seeing the form that could bring them on as World Cup Winners, or even close to it. They did dominate the Algerians, but 16 shots and only 2 goals and they lacked that "oomph" in attack. Korea was a different one where the Koreans had a bit more of the game. It was a 50-50 game there and Belgium lacked much in the counter attack. Lack of full backs is hurting them.
USA: They just didn't turn up against Germany. Tactically, they were completely out of ideas. They looked better against Portugal, and the 4-2-3-1 did great there. They dominated defensively against Ghana but were completely overrun in midfield and lacked any sort of counter attack.
Belgium vs USA Betting Odds:
Belgium To Win: 17/20
Draw: 13/5
To Win: 15/4
Over 2.5 Goals: 6/5
Under 2.5 Goals: 13/20
The best odds for Belgium vs USA are available .
Belgium vs USA Betting Tips:
Have to go with Belgium to win here.
They've managed to win all 3 of their games without looking dangerous. But they've still been solid, and that's all it will take to beat USA.
USA have did great to get here – but they just don't have what it takes against Belgium. Belgium will dominate the midfield in this one, and play a very solid and slow buildup. The main weakness in Belgium is the lack of wing backs, but that just means they are solid defensively.
USA won't break them down. Over/Under prices aren't worth touching.
Bet Belgium to win.
USA vs Belgium Betting Props:
The first one I like is Draw-Belgium. The Belgians are patient, and come to life in the second half. Betting Draw-Belgium at 10/3 is a smart move.
I'd also look at betting the second half to have more goals than the first.