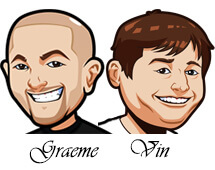 Welcome to Vin & Graeme's Sports Betting Tips.
The two of us have been providing free daily sports betting tips online since 2006, covering a wide variety of sports. We both bet professionally for a living and use many, many factors when it comes to betting.
You can contact us with any questions at site@sportsbettingtips.org.
Our site isn't intended to just give you betting tips – it's intended to help educate you, so you can become a better sports better. We don't just say "Angels today" or "Bruins tonight". We provide a thoroughly detailed analysis of what bets we are making that night and then allow you to make your own mind up. We want you to be the best at betting so we don't just want to write tips to follow – we want to give you our analysis so it can help you understand why we are betting the way we are.
Before we go any further – here are the latest betting tips posted to the site:
Latest Betting Tips:
We used to run various individual websites dedicated to various sports, however decided to collaborate with the domain SportsBettingTips.org with the aim to have a one stop shop for all of our sports betting tips. We also do the research on the best odds and will often present the best odds tips for you. Choosing the best lines is important. It may not seem like much short-term but it works out better long term.
This is intended to benefit you. Most of our followers would follow us on 6-8 different sites. We started talking about it and decided let's just list all of our bets in one place and make it easier for everyone.
We only really focus on sports here, although we both played online poker semi-professionally for quite a few years. We also enjoy burning our money at online casinos from time to time, and currently our favourite software is the Gammix Casinos. Really cool software, and they have great loyalty programs which is a big factor. Don't mind losing too much as long as we get some comp points!
Now here is a little bit about the both of us:
Vin: Vin is from Milwaukee, Wisconsin and specializes in MLB and NBA. He used to run the extremely popular BetMLB.org and had many successful seasons. He also co-ran NBATips.net with Graeme. Vin lived briefly in Maryland, and advises this great Maryland sports betting website for any Marylandians out there.
Vin also has covered the NFL in detail a lot over the years, ran a separate wrestling betting tips website, and also has a wrestling betting tips podcast with Graeme.
Graeme: Graeme is from Scotland originally, where he picked up gambling at an early age. Heading to the bookies to illegally put a "line" on during lunchtime at school. Over the years, you will have seen his face on numerous sports tips websites.
He currently still runs BetNHL.ca and BetWWE.com. Other websites he ran in the past that have been merged into this one include F1Betting.Tips, WorldCupBettingTips, GolfBettingTips.org, WNBATips.com and many more.
One thing we always tell everyone is don't just follow our tips blindly; read our analysis, look up the data yourself, see if you agree or not. Blindly following anyone is a big mistake and you should never do that no matter who it is. We don't promise anything but great analysis and clear reasoning for our picks.
We get a lot of Swedish traffic for whatever reason. We're not too well versed in the world of sports betting for Swedes, but want to advise that you check out https://betsidor.se/ if you are Swedish as they cover the best online sportsbooks for Sweden.
Latest Articles:
Thank you for visiting our website. We really appreciate it and hope you will share it with others!