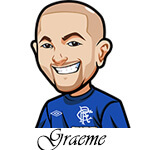 Follow @SBTSportBetting


[Get Exclusive Tips on our Patreon, Ad-Free
]
So ever since the EPL season began, I've been doing weekly EPL betting tips on here – and I've got some at the bottom of the post.
I've also been doing Daily Fantasy EPL tips each week, listing what players I would be picking this week.
I stopped doing the Daily Fantasy EPL on here a couple of weeks ago. No-one ever commented on it when there would be late injury news or anything like that, and when I stopped posting it here no-one seemed to miss it.
I also had the silly thought that "What if I won, but someone followed my picks exactly"? Well then it would make no sense for me to be doing the picks on here. I decided to shelf it until I could come up with a better setup.
Well that was probably a good idea – because yesterday, I won.

$10,000 off a $16 entry. Not too bad at all! Many thanks to Crystal Palace for that 95th minute goal which ruined the Aston Villa clean sheet bonus and earned me the win. That was nerve-wracking stuff.
So that has helped motivate me to think more about it and how best to present it going forward. So along with the EPL Bets each week, I will also keep the section dedicated to Daily Fantasy Soccer.
The only difference is I won't tell you all the players I have picked. Instead, I will give you suggestions as to where to look, based on my picks. I'll explain my thought process on each position. It also helps when there are any late squad changes and players will be out – I may not be able to comment to say who to pick so you won't be feeling lost.
It may take me a bit to adjust to this new setup so bear with me. For example, when writing these I went with the daily fantasy writeup prior to the EPL bets when I think it should be the other way round. Deciding how the matches I expect will go, then pick based on that.
So for Sunday, there are 4 games. Brentford vs Everton, Burnley vs Tottenham, Leicester vs Watford, and Man City vs West Ham. Here's the thought process for each position:
Goalkeeper/Defense: Ideally I like to look at a home team, and there's no one bigger in these four matches than Man City. They are a team I would be looking to load up on goalkeepers and defense. West Ham has a good scoring record though so I am not sure I'd bank on them all the way. The other games have the chances for lots of goals so I'd maybe look at a goalscoring defender or a full back for the favourite team who gets a lot of crosses.
Midfielders: Man City and Leicester are both solid options here. Both are at home and will have a lot of possession – especially with Leicester going against Watford. I would be looking at a goalscoring midfielder though in one of the other games. I think there will be quite a few goals in Burnley vs Spurs, so that's one I would be looking at.
Forwards: Looking at all the forwards, I've decided to go with Harry Kane for sure. Burnley aren't great defensively, so I think he should be good for a goal. Depending on the salary left, I'll be looking at a Man City striker.
If you want to play Daily Fantasy EPL or any other sports, we recommend FanDuel – $500 Deposit Bonus.
EPL Bets:
Brentford vs Everton: A very interesting game between two teams seriously struggling. Everton to their credit may have had the worst schedule lately but their away record is stinking. I think this game has the potential for goals, and am going to go with Over 2.5 Goals at 2.10 odds. Both teams will be looking at this as a potentially winnable game.
Burnley vs Tottenham: Spurs are a hard team to back the overs, but I think it's fine to bet Over 2.5 goals at 1.75 odds. Spurs will be looking to bounce back after that Europe performance, but Burnley are a feisty bunch who see goals often at both ends of the pitch.
Leicester vs Watford: Watford come in off that huge win over Man Utd and can't be discounted. Leicester have been struggling quite a bit lately. Leicester at 1.61 odds are too low for me to bet. I'm concerned they may be tired after the Europa League game as well. Very conflicted and skipping this one.
Man City vs West Ham: No bet here. If I was to take City it'd be on the handicap but would have to be by 3 and that is a lot – especially against a West Ham team who have been absolutely crushing it lately.
Chelsea vs Man Utd: Chelsea come in absolutely crushing it. Just a machine. Man Utd of course we know their issues.
Looking at both those games – I think a double bet at 1.97 odds is fine.

Follow @SBTSportBetting