PDC Darts Tips Day 2 (16/12/16)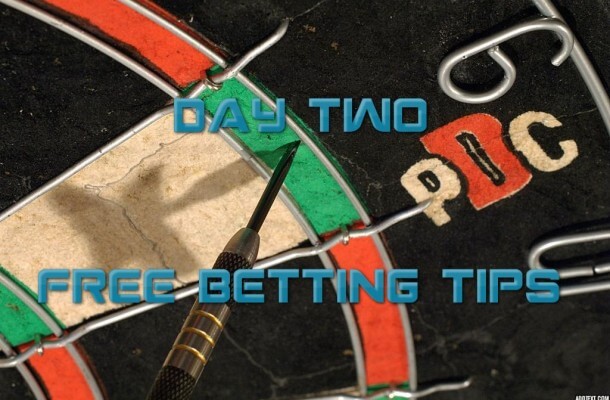 By
Posted:
December 16, 2016
The second day of the 2017 PDC World Championship features the first of our prelim matches, as Jerry Hendriks takes on Warren Parry in the opening match of the night. We also see one of the pre-tournament favourites, Peter Wright, in the last match of the night, as he faces the winner of thee aforementioned prelim match. The evening's other matches see Gerwyn price facing Johnny Clayton and Steve Beaton taking on Devon Petersen. Some interesting matches tonight, and a few chances to cop a nice bet.
Notable Upcoming Bets:
Jerry Hendriks vs Warren Parry – Prelim Match
Jery Hendriks secured his spot at the Ally Pally by winning the Central European Qualifying Event, but he's also played a few events on the Challenge Tour this year, although he's not made too much of a mark. In fact, with several last 128 defeats for Hendriks and no prize money, it's honestly amazing he's plugging away. Before the World Championship, the last money Hendriks had won on the tour was £50 for making the last 64 of a Challenge Tour event in June.
Warren Parry has been here before. Three times, in fact, and he's never made it past the first round. Parry has made a name for himself throughout Oceania and is one of the top players over there, not just in his home country of New Zealand. His last TV outing was in the Auckland Masters, where he lost to Peter Wright 6-1.
Where do I stand on this? I honestly don't know. Hendricks is in woeful form, but it's hard to assess how Parry's form holds up against a player of Hendricks' calibre, purely because we know very little about the Oceanic players, and he was always going to get a hiding in the Masters events he qualified for (a 6-0 defeat to Gary Anderson in Sydney). I have to say that it's no bet for me on this one. I can't find an edge and the bookies might have very wrong, or very right, it's hard to tell.
Gerwyn Price vs Johnny Clayton
The PDC's number 20 against the PDC's number 62 as Gerwyn Price and Johnny Clayton face off in the evening's second match. This is Clayton's first appearance at the World Championship, while Price is making his third appearance, having lost in the first round in 2015 and 2016. They have faced each other twice, once this year in Barnsley, and once in 2015 in the European Matchplay Qualifier. The head to head is 1-1, with Clayton winning their last meeting 6-4.
It hasn't been too bad a year for Gerwyn Price. The fact he won his group at the Grand Slam of Darts highlights his consistency, as he's had a plethora of quarter-finals on the ProTour, to go with his two wins earlier in the year. It's safe to say that in the bigger events, Price has struggled, but it's that consistency on the floor that's got him into the top 20. The worry here is his record at the Ally Pally, but he'll be happy with his draw and will be using his solid performance at the Grand Slam of Darts as a springboard to him finally getting to the second round.
2016 has been a breakthrough year for Johnny Clayton, making a ProTour semi-final in August, and ensuring a place in the Players Championship Finals and ultimately the World Championship. Clayton has had a taste of the TV cameras, having played at the 2015 Grand Slam of Darts, where he beat Terry Jenkins, but finished bottom of his group, losing his other two matches. Clayton's form has been all over the place, but he played well in defeat at the Players Championship Finals and might be confident of an upset here.
For me, it's a tough one to call. Price's form at the World Championship has been terrible, and he didn't look great at the Players Championship Finals. However, the big stage experience might help here against his inexperienced opponent. However, Gerwyn Price was a player I was looking to take on, and Clayton's got the game to push him, as long he can keep his average above 90. The bookies have priced Clayton up at around 7/4, which I like, purely because Price can't be trusted to close games out. So, Johnny Clayton to win is the value bet here.
Steve Beaton vs Devon Petersen
This is such an interesting match for a few reasons. First of all, I love watching Steve Beaton – his throw is so smooth and natural that it's just a pleasure to watch. Secondly, Devon Petersen seemed to have so much untapped potential, then got injured and it seemed to vanish. Thirdly, both players seem to be pretty evenly matches, so might just push each other to a decent game. They've met three times in the past, once in the World Championship. Petersen leads 2-1, winning that World Championship match in 2013 3-1. However, that was before his injury, and times have definitely changed.
Amaingly, Steve Beaton is still 27th in the Order of Merit. You see lots of big name players dropping out, the likes of Wes Newton, Wayne Jones, Andy Hamilton and the like, but Beaton is still there. The reason for that is simply his consistency. This year, he's made a few quarter-finals, a semi-final and a couple of finals to go along with a lot of last 32 finishes and qualification for a lot of European Tour Events. He keeps the prize money ticking over and just plays a nice, consistent game where he'll average around 90 and take out some nice combination finishes.
On the other hand, Devon Petersen is a maverick. He burst onto the scene, really, in 2014, when he made the last 16 of the World Championship, but ended up being hampered by injury and has really struggled. There's a lot of last 128 exits for the South African in the floor tournaments, with his best results being a couple of last 16 finishes. In his last appearance on TV at the Players Championship Finals, Petersen wasn't bad, averaging 91.25 against Robbie Green, but he just didn't get a chance to take Green out. At the European Championship, he wasn't great against Mervyn King, averaging 85.03, so the consistency really isn't there.
For me, this comes down to one thing – you know what you'll get from Steve Beaton, and he'll just grind away, hitting the cover shots when required, some big finishes and will take his chances when given them. You don't get that with Petersen, and he's shown nothing this year to suggest he'll change here. Beaton is short enough at 8/15, but take him on the handicap for a touch of value. Steve Beaton -1.5 sets is the play here at shades of odds-against, and we'll be looking for him to break his opponent at least once.
Wright vs Hendricks/Parry
Peter Wright starts his tournament against the winner of the night's prelim match. While the prelim match winner has a bit of bounce and will be comfortable on the stage, this really should be comfortable for Wright. He's dealt with Parry already this year 6-1, and I can't see anything other than another comfortable win for him should the Kiwi win. If Hendricks win, I don't think Wright will be too worried either. 3-0 will be plenty short enough, so I can't advise it, purely because the prelim winner will be comfortable and will have their eye in, so might nick a set, and Wright will be around 1/50 to win this, so just watch it and enjoy. It's no bet for me.
I'll be back with more free tips for day three of the 2017 PDC World Championship tomorrow, so check back then, and enjoy the darts in the meantime!