Follow @SBTSportBetting


[Get Exclusive Tips on our Patreon, Ad-Free
]
Mark Lawrenson is a name that means something different to people of different ages. To the older generation, he's that Irish defender that played for Liverpool in the '80s. To the slightly younger generation, he's better known as being a pundit on Match of the Day and also co-commentator on the BBC's football coverage. And for anyone that doesn't have access to the BBC, he's that bloke that puts up his football predictions against some so-called celebrity on a weekly basis on the BBC Sport website.

And it's the latter part that we are most interested in. Lawro, for the most part, is just your standard pundit. He can be insightful sometimes, but he's generally just bland and sometimes sexist. However, he does tend to know what he's talking about, having been around the game for so long and watching as much of it as possible. So we thought that for this season, we were going to use Mark Lawrenson's predictions to have a bit of fun every weekend during the English Premiership season.
The idea is simple – Mark Lawrenson posts his predictions for every English Premiership game, giving who he thinks will win, and also the scoreline. We are going to place 1 unit on each of the results, and 1 unit on each of the correct scores. Now, we know we're a week late with this, but, to be fair, Lawro did only manage to get 2 correct results and no correct scores, so we would have been onto a loser. But it's our hope that now he has some results to look at and some form, the former Irish international is going to come good for us this season. And if he doesn't, well, it's yet another reason to mock him. But, hey, we're confident that the big man will lead us to glory and riches this season.
So, let's have a look at Mark Lawrenson's predictions for this week's matches.
Aston Villa vs Manchester United:
Nothing unusual with the prediction for this Friday night fixture; Lawro thinks Manchester United will win this 2-1. Manchester United are 7/10 to win this, and the 2-1 scoreline is 17/2. It's not the most novel selection in the world, but, sure, Manchester United are title contenders, while Aston Villa are going to struggle this season. Although it's not like United looked like they had even two goals in them last week, and only a great goalkeeping performance kept Spurs at bay. It's an interesting game.
Southampton vs Everton
A Southampton 2-0 win according to Lawrenson. A Southampton win pays 19/20 and 2-0 pays 8/1. Everton's defence were shocking against Watford last week, while Southampton know how to find the back of the net, as they showed against Newcastle in the season's first game. We like his play here, actually. Southampton are usually mean in defence, so let's hope they can keep Everton out.
Sunderland vs Norwich
Lawro going for another win here, with Sunderland 6/4 to win and the predicted 2-1 scoreline is a 10/1 shot. These are the games that could go either way. Sunderland were poor last week, but they can score goals. Norwich, who knows what the season holds for them? The Sunderland win is a safe pick, and 2-1, well, that's just erring on the side of caution, as it could really go any way.
Swansea vs Newcastle
The first draw that Mark Lawrenson is predicting this weekend. He think it will be 1-1, so we're on that. The draw is 5/2 and the 1-1 scoreline is the bookies' favourite at 13/2. Swansea and Newcastle both drew 2-2 last week, so going for another draw isn't exactly rocket science. Swansea looked dangerous in attack, as did Newcastle, so 2-2 might not even be out of the realms of possibility. It looks like he's played it safe again with a 1-1 draw, as it's another game that could go either way.
Tottenham vs Stoke
The big fella thinks a 2-1 win for Spurs is the play here. Tottenham to win is 4/5, while the 2-1 score is 8/1. Spurs were a bit unlucky last week, as were Stoke. The Potters have their new talisman Shaqiri to give them a boost. Will he play? Possibly. If he does, Stoke certainly have a goal in them. Can Spurs put two past Stoke? Maybe.
Watford vs West Brom
Lawro isn't liking the new boys here, he's fancying a 2-1 win for West Brom. A bit of value here, by the looks of it, as West Brom are 5/2 and the correct score price is 13/1. This is the first of the stange picks here. Watford weren't bad against Everton, while West Brom stank up the place against Manchester City. Apples and oranges, sure, but West Brom need to find goals and fast, while Watford know how to find the back of the net. But we'll stick with Lawro, and if this result lands, we'll be well on our way to landing a nice profit
West Ham vs Leicester
Either Lawro thinks West Ham's win over Arsenal was pure luck, or he really likes Leicester, as he's tipping Leicester to win 2-0 here. 12/5 is the price for the Foxes win, while the correct score is 18/1. Before last week, you would have had this down as a game that could go either way. And it still could. Leicester looked deadly last week, and West Ham beat one of the title contenders away from home. He seems confident in picking a 2-0 win for Leicester, so who are we to go against such a confident prediction? Of course, Leicester keeping a clean sheet doesn't seem likely, but at 16/1 odds, we'll take a punt on 2-0.
Crystal Palace vs Arsenal
Obviously he doesn't think Arsenal are any great shakes, and he's gone for a 1-1 draw. The draw is 11/4 and 1-1 is a 7/1 shot. This should be an exciting game, at the very least. It's weird he's not going for the obvious pick of Arsenal here, but he like the fact he's mixing it up and going for the draw. Let's just hope that Arsenal aren't smarting after last week's humiliating defeat to West Ham, because if they have their backs up, it could be a long 90 minutes for Palace.
Manchester City vs Chelsea
Lawro thinks it will be tight, with Manchester City winning 1-0. 11/10 for the Manchester City win, and 7/1 if it's a 1-0 win. We don't see why not. These matches are typical boring, tight affairs so a 1-0 for the home side is the likeliest result, sure. Boring pick, but sometimes boring is good.
Liverpool vs Bournemouth
Nothing unusual to finish with, either, as Lawro goes for the predictable 2-0 win for Liverpool. Liverpool are 1/2 to win, and the correct score is 13/2. Nothing to see here. Former Liverpool player picks Liverpool to beat Premiership new boys comfortably. The most predictable prediction of the weekend. From a betting perspective, we won't get rich, but a win will be a win, as long as Bournemouth don't decide this is the week they're going to open their Premiership account.
So, the main thing here is that we land at least one correct score and we should be on the path to breaking even at the very least. We're out 20 units, so two correct scores gets us into profit. Fingers crossed that Mark Lawrenson gets us off to a good start this season!
Also if you want to bet all the correct scores, the odds are 6,585,804,224/1. Just play the lottery instead.
Here are the betting slips – we bet each correct score individually and then did the others as a treble and four fold.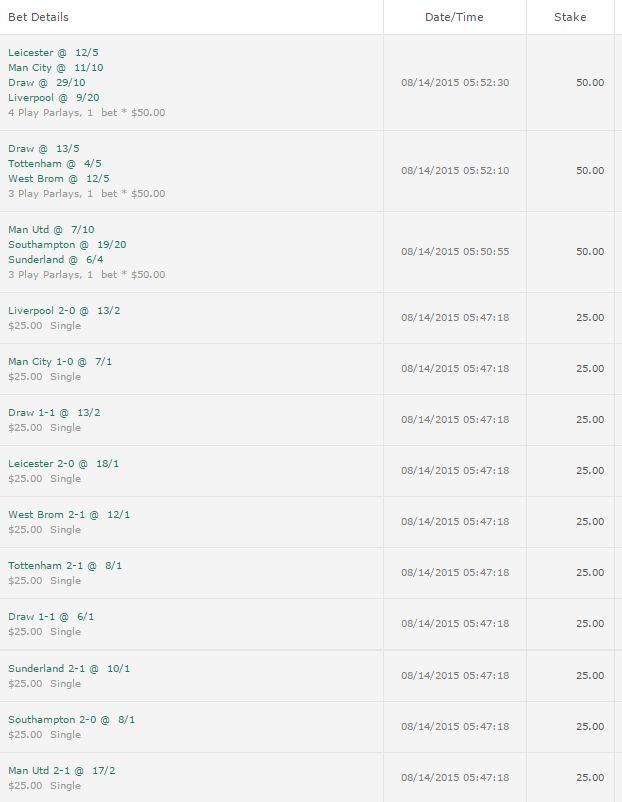 Follow @SBTSportBetting