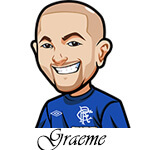 Follow @SBTSportBetting


[Get Exclusive Tips on our Patreon, Ad-Free
]
Welcome to our first Comeback Kings Betting Challenge.
This is a fun betting challenge we do purely for entertainment purposes – if we win money then great, but it's mostly give us a lot more interest in the sport that day.
This week, we are going to celebrate the return of UK Soccer with betting challenges for 3 different leagues. How it works is fairly simple – we will go with the English Championship, English League Division One and the Scottish Premiership.
Before half time, if a team goes down 1-0, we will bet on them to win. Essentially betting them to make the big comeback and win the match.
We'll be using the live betting feature for this, available at Bet365.
Also after half-time no more bets, and if there's a second goal in the game – no matter who it is – no more bets. Dependent on odds we may cash out too.
Due to time constraints we won't be live updating today. We'll be back at half-time to let you know who we bet, and for how much.
Comeback Kings #1: Half-Time
Okay so wow – we've got a lot of bets going on right now. Here are the teams we backed, and the odds:
Birmingham: 14/1
Blackpool: 18/1
Bolton: 8/1
Brighton: 4/1
Coventry: 7/1
Hamilton: 9/2
Huddersfield: 4/1
Kilmarnock: 17/2
Leeds: 15/2
Leyton Orient: 12/5
MK Dons: 7/4
Oldham: 5/1
Reading: 12/1
Scunthorpe: 7/1
Wallsall: 5/1
Yeovil: 7/2
Lot of money floating around. $10 on each one.
We'll post an update at full time.
Comeback Kings #2: Full-Time
So this ended up being interesting – and we were able to take advantage of the cashout feature at Bet365.
First of all we had one win, which was MK Dons for 7/4 odds. Couple of close calls like Oldham drawing 2-2 with Colchester. Coventry also tied it up with Bradford but couldn't steal the win.
But the big one was Reading.
They scored two goals in the last 15 minutes to go up 2-1. At that point. we were able to cash out with 10 minutes left at 10/1. I did that, and what happened? Wigan scored!
So we had 16 bets going on. 16 units of $10 bet. We lost 14 of them to put us at -14. We won with MK Dons, for essentially 3 units -11. Then we won with Reading at 10/1, to make us practically break-even. We lost like 0.2 units and all that for the entertainment? Can't beat it.
The decision to cash out was a tricky one. If we had a few more wins under the belt I probably wouldn't have – but then the price was massive too. 10/1 on the team who is away? I don't think those extra 2 units would be worth it.
It's a tricky one to decide and we were going back and forth – but luckily we decided to go for it.
Either way – fun day, and hopefully next time we do this we'll be able to provide live updates.
Hope you enjoyed reading.
Follow @SBTSportBetting