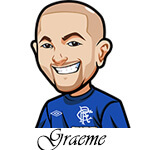 In the closing stages of Euro 2012 Group A, Czech Republic take on Poland in what should be quite the interesting game. Only one of these teams are able to qualify for the quarter finals, and a draw could see both teams go out.
Czech Republic CAN draw and still go through – but that requires Russia winning or drawing against Greece. Russia didn't look at their best against Poland, and Greece have been unlucky in the tournament. They really should have beaten Poland, and two quick goals were the difference-maker against the Czech Republic.
So this is a game where the Czech Republic also really need to go for the win.
Czech Republic 9/4
Draw 12/5
Poland 5/4
Both these teams have shown the ability to break fast with the goal attempts. I really think it's hard to predict who will win this game based on the previous matches. Poland looked very poor in the 2nd half against Russia, but very solid against Greece. Czech Republic looked atrocious vs Russia, but a bit better against Greece.
The one bet that really stands out when I look for Czech Republic vs Greece betting tips is Over 10 corners. You can get 11/10 on over 10 corners for this match.
We're getting a good price on over 10 corners because neither team have really had a lot of corners in previous matches. Against Greece Poland had just 4, and against Russia also 4. Czechs meanwhile have had 5 corners and 4 corners respectively.
However this is going to be a lot more of an attacking based game, with a lot of counters down the flanks which will set up a lot of corner kicks. And when your tournament life is on the line, especially in the closing stages, you're bound to see a lot more corners.
I also like Over 5.5 cards which you can get for 6/5. As these tournaments go on, tempers are bound to flare – neither team had a yellow in their opening games, then Czech Republic picked up 3 and Poland 2 in the 2nd group games.
Even more importantly, any yellow cards picked up in the quarter final(or prior to it) do NOT carry over to the semi-finals. This means the players can risk picking up a yellow card, knowing that if they make the quarter finals they are safe to get an additional yellow, and won't get suspended for the semi-finals onwards.
With Poland also feeling the pressure of their home fans, the over 5.5 on cards is a great price in my opinion.