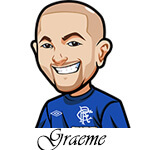 Euro 2012 Group D kicks off on June 11, 2012 and we start with France vs England.
Both teams are practically even favourites to qualify from Group D, with Ukraine and Sweden being written off before the tournament even begins.
So who is going to win the big clash between the top two favourites, France and England?
A lot of people think the draw is the best bet – but I think they are crazy. To me this one is a no-brainer – France all the way.
England are a mess. A complete, utter mess. A new manager in Roy Hodgson, who looked completely out of his depth at Liverpool. If he couldn't handle it at Liverpool, how is he going to manage England? The press are notorious in England and just won't get behind Hodgson. They wanted Redknapp, and they'll be ready to dive in Hodgson immediately.
That's a lot of pressure. Then you're going into it without Wayne Rooney, who is suspended for the first two matches. Some awful choices like Stewart Downing and Andy Carroll – two players are the opposite of in-form. Then there's the cloud over John Terry.
England are a mess. This is not going to be a good tournament for them. France on the other hand, looked fairly solid during the qualifiers. What I liked was their ability to grind out a game, and grind out a result. They displayed some great team performances. France also have some obviously quality players who are playing great like Nasri and Ribery.
This one is easy.
Additional England vs France Betting Tips:
England vs France: Over 2.5 Goals
England are going to self-destruct out there. France will break them down. HOWEVER – England also have some great counter-attackers in Sturridge and Welbeck. This game is going to focus a lot on quick counter attacks, and England can snatch a few. I can see both teams scoring goals here. No matter how this game plays out, there will be goals.