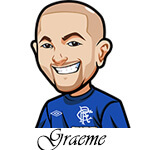 As a Glasgow Rangers fan, I'm strongly rooting against Ireland in this tournament.
Yet even I feel sorry for them going into their match with Spain.
Spain are coming off a struggling draw against Italy, while Ireland were soundly defeated by Croatia. It wasn't even that Ireland were that bad – they just made some basic mistakes which really didn't help them at all.
One big question is Spains tactics – will they stick with the 4-6-0 that didn't work well against Italy? Or go with one, or even two strikers? I think they absolutely HAVE to go with the strikers. When Torres came on, despite not scoring, he had about 4-5 great chances. He added new life to the Spanish squad, and looked absolutely lethal up until that final touch.
Also, Ireland defended very deep against Croatia. If they are going to do the same against Spain then Spain can't go with the 4-6-0 or they risk not getting anywhere.
I just can't see value in the Spain to win odds at all. I also can't see the odds in the Draw or Ireland. The bookies odds are rather funny – Spain -4 is 10/1, while Ireland to win? Also 10/1! They're expecting a cricket score for this game.
In this one, I'm going to trust the bookies. They think that Spain are going to destroy Ireland yet they are leaving us with rather generous 17/20 odds on the Over 2.5 goals. For Spain vs Ireland go for 17/20 odds
The below preview was written before Euro 2012 and is for archival purposes.
In one of the no-brainers of the tournament, Spain take on Ireland. Sorry Irish fans – but any dreams you have of beating the world champions are going to be scuppered pretty quickly in this game.
Prior to Spain vs Ireland, we have Spain vs Italy and Ireland vs Croatia. This is the article for Spain vs Ireland Betting Tips. This game takes place on June 14th.
Lets look at the Spain vs Ireland Betting Odds:
Spain vs Ireland Live Betting Odds:
Now before we go any further, you need to know I am writing this prior to the opening games of Spain vs Italy, and Croatia vs Ireland. I WILL do an update after those games on this article, however that's something you need to know going into this.
As we can see, betting on Spain isn't really a favourable option. The odds just aren't in our favour. Unfortunately, I can't see any match betting odds being worth of a punt here.
What IS interesting is the correct score bets. I'm going to wait until the first games are over, but I think there's a lot of value in the correct score predictions for Spain vs Ireland
Even Spain-Spain isn't too favourable at 5/6. While it may look like a decent little bet – Ireland are going to be putting up a fight and it may take awhile for Spain to break them down.
If anything, the bet I like is Over 2.5 goals. You can get this at 4/5 and that's a fantastic price in my opinion – I see at least 3 goals in this game, and possibly more.
Once the Asian handicap market is up, that's where we might be able to find some bets. Spain 4-0 at just 12/1 shows that Spain are heavily favoured to dominate Ireland, so I think that's where the real Spain vs Ireland Betting Picks lie.
Once the opening games have been played, I'll have more Spain vs Ireland Betting Tips. Unfortunately at this time most bookies don't offer a wide variety of betting options yet. But I will update this article prior to Spain vs Ireland with my best betting picks.