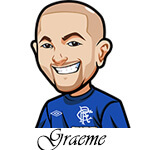 In the first games in Group D, Ukraine came from behind to pick up a big victory against Sweden. It was a relatively even game, but coming back from behind is quite the feat, and Ukraine have to be applauded for that. They also held off a strong Sweden attack in the closing minutes of the game.
France meanwhile, played for the draw against England. They were the team that wanted to win that match the most, but they refused to take any risks, obviously hesitant about the counter-attacking pace of Danny Welbeck.
Let's check out the France vs Ukraine Match Betting Odds:
This is going to be quite an interesting game, but at the end of the day I think we're getting some solid betting value with the France betting odds to win.
France will be a lot more attack-orientated, and we should see Benzema brought into the game more. France were hesitant to attack England as they were quite happy to settle for the draw and didn't want to risk the counter, but it won't be the same against Ukraine. They will be able to rely on all their options like the full backs pushing up more and joining the attack, as well as of course the long shots from the 25 yard line – which did slightly trouble England from time to time.
Ukraine picked up a nice result against Sweden, and their confidence will be high. Coming back from behind is a big boost. But they just don't have the players to break down France. France were solid in defense, especially Diarra – the big man didn't make one mistake the whole game.
I like France to beat Ukraine in this game, with the match specials being a good option for betting this game.
France at 9/2 correct score 1-0 isn't too shabby either. 1-0 or 2-0(which is 15/2) are both great options. It all depends on how good you think France can be on the counter attack. I'm probably going to wait on that one until all the match specials are revealed
The below content was written prior to Euro 2012 and is for archival purposes only.
Welcome to the France vs Ukraine Betting Tips article, for the France vs Ukraine game that takes place on Friday, June 15th.
And oh boy, is there value in this game.
I should note that I am writing this article prior to France vs England and Ukraine vs Sweden but I can't help it – there is incredible value here that there won't be after those games are over. Trust me on that.
First, lets look at the France vs Ukraine betting odds:
France vs Ukraine Live Betting Odds:
Without a shadow of a doubt, France are incredible value here.
The bookies aren't underestimating France – they're overestimating Ukraine. Ukraine are the hosts, and that means nothing. If it wasn't for being the hosts, Ukraine in all likelihood wouldn't even be here.
There is just a ton of incredible value in this Ukraine vs France game – bet France to win. It's very likely that the match betting odds will change after the first games, so hopefully you can get in at a good price.
Even the half-time/full-time of France-France at 13/5 isn't too bad. I'd probably stay away from that though, and instead just go for France to win. The price on that is just too good to ignore.
I will have more Ukraine vs France betting picks after the first round of games – once I've analyzed the tactics of both teams and what this game means to each team.
But trust me on this – France to beat Ukraine is a STEAL. Get it while you can with their special Euro 2012 Bonus!