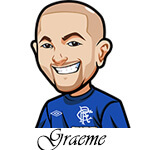 Follow @SBTSportBetting


[Get Exclusive Tips on our Patreon, Ad-Free
]
In this article I'm going to discuss the Euro 2012 Winners betting – and who I think we should bet on to win Euro 2012 Outright.
Obviously, the two favourites to win Euro 2012 are Spain and Germany. However when we are looking at who to win Euro 2012, we need to also look at the betting odds, and see who gives us the best value for money.
This is going to be an interesting tournament, and I don't think its as obvious as one might think.
Lets look at the complete betting odds to win Euro 2012:
Spain: 11/4
Germany: 3/1
Holland: 13/2
England: 10/1
France: 11/1
Italy: 14/1
Portugal: 18/1
Russia: 25/1
Poland: 40/1
Croatia: 50/1
Ukraine: 50/1
Czech Republic: 66/1
Sweden: 66/1
Greece: 80/1
Rep of Ireland: 80/1
Denmark: 80/1
First of all, I think the best betting tip for winning Euro 2012 lies in Germany. Germany are 3/1, and should be able to beat the majority of teams. They DO have the group of death, but Germany are strong enough to be able to come out of that group, most likely as Group Winners.
Assuming Spain wins their own group, this also means that Germany vs Spain won't happen until the final. In the previous major international competitions, Spain have been the one to eliminate Germany – in the semi-finals at the World Cup 2010, and in the final at Euro 2008.
So it really comes down to – can Germany beat Spain? When you look at some of the issues involving Spain, like David Villa being out, and Fernando Torres still not on-form, then I think the answer to that one has to be yes, and the 3/1 odds for that are very generous.
So my "safe" betting tip to win Euro 2012 is Germany at 3/1 at Bet365.
What is really good about Euro 2012 however, are the long shot odds and I think there is TREMENDOUS value in a couple of them. Portugal at 18/1 are overpriced – yes, we all know Portugal have struggled, however they have the best player in the world in Cristiano Ronaldo(sorry Messi fans), and some other top-drawer players that can create magic.
I'm not saying I THINK Portugal will win Euro 2012 – however at 18/1 they're worth a punt. I personally think their true odds are about 8/1. The only reason they are higher is because they are in the group of death with Netherlands and Germany. If they get out of there, look for their odds to drop dramatically.
Another great choice is Italy. If they manage to win their group ahead of Spain, and that's a possibility due to Spains problems and Italy being a quality team – then they really don't face tough opposition until the final of Euro 2012, against most likely Germany.
So if you're looking for Euro 2012 Winners Picks – that's what I will be betting. Germany are a very solid team and 3/1 is a decent price for the team who should really be outright favourites. Portugal at 18/1 is a price value we just cannot ignore, and Italy, who went unbeaten in the Euro 2012 qualifiers, are another solid pick.
I recommend 3 different Euro 2012 Winners Betting Tips. Pick Germany at 3/1, and then the long-shot bets of Italy at 14/1 and Portugal at 18/1.
Follow @SBTSportBetting