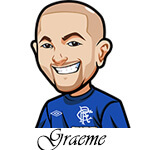 Follow @SBTSportBetting


[Get Exclusive Tips on our Patreon, Ad-Free
]
One great bet you can make during Euro 2012 is the Top Team Goalscorer. Predicting who will be the top goalscorer for the tournament itself can be rather tricky, but predicting the top team goalscorer is a LOT easier.
Even if England or Spain have a bad tournament – the odds are that the top team goalscorer will always be the one that you expected. The odds on the top team goalscorer are extremely generous too.
Unfortunately – the Top Team Goalscorer is a limited market. You might be able to find Top England Goalscorer for example at some UK facing sportsbooks
Don't worry – I'll do the hard work for you. I'll let you know what sportsbook has the best odds.
Alright, lets go through the teams in alphabetical order and figure out the top goalscorer for each team:
Top Croatia Goalscorer Betting Pick:
Without a shadow of a doubt, Nikica Jelavic is the best choice for the Croatia Top Team Goalscorer. We're getting a whopping 9/2 on Jelavic to be Croatias top goalscorer – and to be honest, Jelavic is probably the most on-form player going into Euro 2012. He has been absolutely fantastic since moving to Everton, has shown he can play in the big games, and is probably a good contender for the overall top goalscorer – not just for Croatia, but the whole tournament.
Top Czech Republic Goalscorer Betting Pick:
The obvious one here would be Milan Baros at 11/2, however I would recommend Michal Kadlec instead. Kadlec takes their penalties, and Czech Republic usually win quote a few penalties. He can even score when it's not on the spot. Overall, at odds of 10/1 we just can't ignore Kadlec here.
Top Denmark Goalscorer Betting Pick:
I'd probably avoid betting on Denmark altogether. Of their 15 goals in the qualifying campaign, only 3 came from Bendtner. I can see him being the obvious bet, but Denmark won't score many goals in this tournament and if they do score any, it will be spread around. If you MUST bet Bendtner then Paddy Power is best with 3/1 odds but I much prefer the 9/1 odds we are getting for no Denmark goalscorer
Top England Goalscorer Betting Pick:
Hilariously, Wayne Rooney is the 2nd favourite for the top England goalscorer, despite missing two group games. Yet if you know anything about goalscoring in Euro 2012, it's that all the goals usually come from the groups, and not the post-group stage. Carroll at 4/1 is too short – I really like the odds we are getting for Danny Welbeck – 15/2 odds are lovely. Welbeck works great both in the poacher role and on fast counter attacks, and I can see him having a great tournament. .
Top France Goalscorer Betting Pick:
France is one market I would be avoiding. The France Top Goalscorer is a tricky one as their goals come from all over the place. There was no consistent goalscorer during the qualifiers, and the only one I would recommend would be Karim Benzema, however the odds of 9/4 make that a bad bet. I would stay away from betting on the Top France Goalscorer.
Top Germany Goalscorer Betting Pick:
In the qualifying stages of Euro 2012, Germany scored a whopping 34 goals. Miroslav Klose had a whopping 9 of those goals, yet the big German striker is the 2nd favourite at 4/1 odds. These are fantastic odds. Klose is going to shine at Euro 2012, and is a highly consistent goalscorer. Bet on Klose at 4/1 – those are the best odds
Top Greece Goalscorer Betting Pick:
Greece aren't known for their goalscoring abilities. They only scored 14 goals in 10 games of Euro 2012 qualifiers. The goals were drastically spread about too. I would not be betting any money on a Top Greece goalscorer. If you're wanting a bet then pick a name out of a hat and pick Katsouranis or Tzavelas or a few other high odds players and just hope to get lucky.
Top Holland Goalscorer Betting Pick:
This is going to be one competitive battle – Holland have a lot of talented goalscorers, with Robin Van Persie and Klaas-Jan Huntellar leading the betting. I would say we just have to go by the betting odds here. Van Persie has slight value at 9/4, while Klas-Jan Huntelaar is at 3/1 which is a good deal. Even Dirk Kuyt can come up with the goals, and his 12/1 odds may be worth a punt. I personally would lean towards Huntelaar, but either bet provides small value.
Top Italy Goalscorer Betting Pick:
Italy scored 17 goals in Euro 2012 Qualifying Group C. While the stats say 20 goals – 3 of those goals were by a forfeited match against Serbia. The goals were spread about, but the most consistent goalscorer by FAR was Cassano, with a fantastic 6 goals. Surprisingly, Balotelli is the favourite – I assume that's due to the betting market and the punters dictating it. However Antonio Cassano is a STEAL for Top Italian Goalscorer.>.
Top Poland Goalscorer Betting Pick:
This is going to be a tough tournament for Poland. I really like No Poland Goalscorer at 28/1. There is great value here as Poland are a weak team.
Top Portugal Goalscorer Betting Pick:
These are the bets I really like, as there is a lot of value. All the attention is on Cristiano Ronaldo, however he only scored 5 goals out of Portugals 21 goals. Of course, he's a heavy favourite. Go for Luis Nani here. He should be about 4/1 odds, but at Bet365 he is 9/1 which is a bloody steal!
Top Republic of Ireland Goalscorer Betting Pick:
Robbie Keane is the man that is going to provide the goals for Ireland. He scored 5 goals in the Euro 2012 Qualifiers, 2 in the playoffs, and also takes the penalties. Paddy Power is only offering 5/2 on Robbie Keane, so you can get the best value at Bet365, where Robbie Keane is 11/4. .
Top Russia Goalscorer Betting Pick:
One of my favourite strikers of all time plays for Russia, and that's Pavel Pogbreniak. He only scored 2 goals in the qualifiers but only started a few games. I don't think he's going to start many in Euro 2012 unfortunately, but I can see Alan Dzagoev making up the goals and that's who I would bet. I just can't ignore the 8/1 odds on Dzagoev, who was joint top goalscorer during the qualifiers, and is guaranteed a lot of minutes. Go with Dzagoev – 8/1 at Paddy Power.
Top Spain Goalscorer Betting Pick:
With David Villa out, it really comes down to Fernando Llorente or Fernando Torres. Honestly, I have to go with Torres here. He had a horrible season, however he showed some signs of brilliance near the end of the season. Even more importantly – being left out of the Champions League final first team was a HUGE blow for him. This is a man who is pissed off, and someone who NEEDS to step up on the big stage. At odds of 4/1 at Paddy Power, I'm willing to risk that he will step up.
Top Sweden Goalscorer Betting Pick:
The goals are going to come from Ibrahimovic, and he's my outside bet as Euro 2012 Top Goalscorer. The 5/2 odds have slight value – go for that.
Top Ukraine Goalscorer Betting Pick:
It's probably going to come down to Yarmolenjo and Milevskiy, and I don't see Ukraine getting out of the group stage. Bet365 have decent odds of 5/1 for Yarmolenjo and 7/1 for Milevskiy. I'd recommend probably betting both of those.
Follow @SBTSportBetting