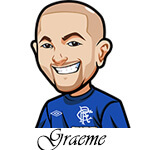 Euro 2016 kicks off with France vs Romania on Friday, June 10th 2016. That is the only game of the day and is a Group A fixture taking place at the Stade de France, in Saint-Denis.
France qualify for Euro 2016 due to being the host country of the tournament. They will be hoping to recapture the form that saw them take down the 2000 European Championships or saw them get to the 2006 World Cup Final. Since then, France have yet to progress past the group stages of the World Cup. Being the host country sometimes adds to the pressure and it will be interesting to see how the French deal with that – if they're going to end up like Portugal or Switzerland – two host countries who lost their opening fixtures.
Romania had an unbeaten qualification campaign playing 10 games and winning 5 and drawing 5. They came 2nd in Group F to Northern Ireland and what's notable is they conceded just 2 goals in the qualification campaign, the lowest of all of the teams.
The last time these two played was in the qualifying stages of Euro 2012. France won 2-0 at home with two late goals, and Romania drew 0-0 in Bucharest. They also met in the 2010 World Cup qualification which saw both teams draw, and then again in Euro 2008 in the Group Stage. That also resulted in a draw.
France vs Romania Match Betting Odds:
France: 1.40, 2/5, -250
Draw: 4.33, 10/3, +333
Romania: 8.50, 15/2, +750
[colored_box color="blue"]Best odds for France vs Romania are available at Bovada - $200 in free bets and accepts Americans..[/colored_box]
France vs Romania Match Betting Tips:
We obviously have no qualification data from France to judge their form on. However saw a very solid French team in the 2014 World Cup and one who weren't afraid to score goals with a 3-0 victory over Honduras, and a 5-2 victory over the Swiss. In friendlies we've seen an offensive France team of late with good results over the likes of Russia and Netherlands.
be it a friendly or Euro qualifying, Romania remain an extremely tight team defensively and do a great job at stuffing attacks. It's going to be a very interesting one because their counter attacking isn't top-notch. If it was you could see them stealing a win against France. However their ability to stifle a game borders on incredible at times. Of course during qualification they never met a team with the offensive power of France.
I do think Romania will do a great job of keeping this one close but I can see France breaking down Romania as they'll just be too strong competitively. I don't see it happening early on but France will get the breakthrough and Romania will not be able to get anything back against them.
The odds aren't great however so it's your call. I'd love to tip France-France or Draw-France but I just am not confident on either.
[colored_box color="blue"] I'm taking France to win, which you can bet at Bovada - $200 in free bets and accepts Americans..[/colored_box]
France vs Romania Prop Bets:
Like I said above I see this being a very tight game. I think France are going to win either 1-0 (4/1) or 2-0 (9/2) with a goal within the first 60 minutes, and a potential late goal as time goes on and Romania push up.
I'm not a fan of either of those odds though especially with France not being tested competitively in awhile.
I'd be putting all of my money on Under 2.5 Goals.
[colored_box color="blue"]You can bet Under 2.5 goals at 4/6 odds at Bovada - $200 in free bets and accepts Americans..[/colored_box]