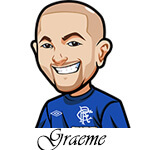 Group C of Euro 2016 features Ukraine, Poland, Northern Ireland and of course the mighty Germany.
Germany won an extremely difficult Group D to qualify although it was quite the battle. With the likes of Poland, Republic of Ireland and Scotland in the group it was a very tough one. Even Georgia – while nowhere near the Kinkladze days – still have a lot going for them. As it is Germany won 7 games, drew once against Ireland at home and then lost twice to Poland and Ireland. Even in their other games they were tight with no dominant performances.
Poland of course came 2nd in that group with a 6-3-1 record and got a marvellous victory over Germany. What's interesting is they DID get the dominant victories in scoring 33 goals to Germanys 24.
Northern Ireland topped their group in amazing fashion and you have to wonder if their momentum can continue. They did what was needed to oust Romania, Hungary and Greece for that top spot.
Finally we have Ukraine. They needed playoffs where they beat Slovenia 3-1 on aggregate. They came 3rd in a tough group featuring Spain, Slovakia and Belarus. Ukraine could not beat any of the top two teams in the group and lost three times.
Group C Winners Betting Odds:
Germany: 2/5, 1.40, -250
Poland: 7/2, 4.50, +350
Ukraine: 17/2, 9.50, +850
Northern Ireland: 20/1, 21.00, +2000
Group C Winners Betting Tips:
This is a very tricky one. Germany were able to qualify in their group by winning it, but DID lose to Poland. So at that point you have to look at things and decide whether or not Poland are worth the bet at 7/2.
Personally I don't think so. I think Germany have this group wrapped up – they're just too damn good. Poland are a very solid team obviously and Lewandowski will batter in the goals however I think they will be outmatched by Germany.
What I would instead recommend for betting here is the Group Forecast. This is where there is a very good price as you can bet Germany will win the group but Poland will come 2nd at 7/4 odds.
Looking at the group I can see it falling exactly that way. Germany will sweep the group, Poland 2nd with Ukraine languishing in 3rd and Northern Ireland bottom of the group.
Group C Qualifiers Betting Odds:
Germany 1/50
Poland 2/7
Ukraine 8/15
Northern Ireland 5/2
Group C Qualifers Betting Tips:
There's no real value in Poland or Ukraine qualifying but I think there may be some slight value in betting Ukraine NOT to qualify.
For a team not to qualify in 3rd place you're looking for a team who will lose 2 of the games and then possibly win one – but it's not certain. That's one I like with Ukraine.
Ukraine struggled a bit in qualification, while Northern Ireland played extremely well. I think Northern Ireland could pull off an upset in their match.
11/8 odds for Ukraine not to qualify.