May 31st, 2016 Betting Tips: MLB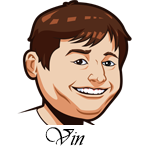 By
The Golden State Warriors are going to the NBA Finals after one of the most incredible series we've ever seen. After falling behind 3-1, the Warriors were able to right the ship and come back to win the series. The first team to comeback from being down 3-1 in the Conference Finals since the Boston Celtics in 1981. They did it by playing their game and hitting some of the craziest three pointers you've ever seen. They showed why they were a 73 win team in the regular season and why they are a big favorite in the Finals against the Cavaliers. The Cavs opened as a +180 underdog for this series with the Warriors being -220. Game 1 is Thursday.
Until then we focus on baseball. There are some great match-ups tonight headlined by the Pirates' Gerrit Cole going against the Marlins' Jose Fernandez. A really great match-up between two aces and Cy Young contenders that should live up to the hype. We also have Jake Arrieta taking on the Dodgers in Chicago which is the ESPN game of the night. A lot of good games to get into so let's just get to the tips.
MLB Betting Tips:
One game that I am really targeting tonight for some big run scoring is the Cardinals taking on the Brewers in Milwaukee. Wily Peralta is on the mound for the Brewers and he is one of the worst everyday starters in baseball. He currently holds a 6.52 ERA with a 1.90 WHIP. The Cardinals will hit him and hit him hard. The Cardinals start Mike Leake who has been decent of late after a bad start, but still holds a 4.58 FIP on the year. The Brewers are one of the better teams against right handed pitching as well. This Brewers/Cardinals Over 9 runs should come in easily tonight.
#1 Sportsbook Online for Americans

Good deposit bonus, lot of unique bets & props. Excellent mobile & live betting.
Gerrit Cole and Jose Fernandez are just about as even of a match-up as you'll see between two starters. They have both been on fire as of late with Cole posting a 0.45 ERA over his past three and Fernandez posting a 1.35 ERA over his past three. As I said in the opener, this should be good. I have to give the slight edge to the Pirates in this one though. The Marlins may play without Giancarlo Stanton who is questionable for this one and Pittsburgh just has the better offense overall with a team OPS that is 40 points higher. Pittsburgh +120 is the play here.
You know a team is bad when they are a home underdog against a pitcher with a 7.26 ERA. That is the case tonight with the Braves as they face the Giants and Jake Peavy. His early season was an absolute disaster, but he has looked better in two of his past three starts and playing against an offense that averages just 3.2 runs per game should be a huge benefit to him. The Giants are a great team and I think they'll help Peavy get back on track with an easy win tonight. Giants -118.
#1 Sportsbook Online for Americans

Good deposit bonus, lot of unique bets & props. Excellent mobile & live betting.