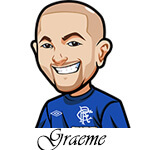 Follow @SBTSportBetting


[Get Exclusive Tips on our Patreon, Ad-Free
]
On a weekly basis, I will be doing EPL Betting Tips.
I will not be posting them on SBT at least initially.
It's completely free and Graeme has had two big winning weeks with the Scottish Premier League and CFL with those exclusive tips.
Subscribe here:
I do want to do SOME soccer content on here though and so on a weekly basis, myself and my friend Fraser will be collaborating on a team for daily fantasy sports each week and providing some insight here.
Fraser is very smart when it comes to soccer and uses a lot of advanced metrics, XG etc.
If you want to play Daily Fantasy EPL or any other sports, we recommend FanDuel – $500 Deposit Bonus.
Fantasy EPL Rules:
There are 5 games this week on the Saturday which we will be entering. It lists the 5 3pm games so that won't be factoring in Man Utd vs Leeds, or Norwich vs Liverpool.
We can pick two forwards, two midfielders, two defenders, a goalkeeper and a player in a utility role.
We will pick one forward, midfielder and defender each. We will rotate goalkeeper and utility each week. We both get to split the salary.
Here are our picks:
Fraser's Fantasy EPL Picks
F – Kai Havertz. Got to go big, with this type of draft. Chelsea at home to Palace this weekend, is a banker 3 points, clean sheet and possibly a good few goals. Havertz started coming into this own at the end of the season and had good form for Germany in the Euros. 99% should start against Palace and is good for a goal.
M – James Ward Prowse. One of the scoring points is 0.7pts for a cross. That includes corners and set pieces. Need to add in a set piece specialist who is also a playmaker. Ward Prowse is that guy, the main man for Southampton, should pick up some easy points.
D – Thiago Silva. Chelsea at home to Palace should be an easy clean sheet. Silva is the cheapest of all the defenders that should start for Chelsea.
UTIL – Jorginho. Will score points due to the amount of passes he makes. Also he is the penalty taker for Chelsea, an extra chance to pick up 10 points if Palace make a few rash challenges
Graeme's Fantasy EPL Picks
GK – Mendy. It was the obvious choice. It can be intriguing looking at goalkeepers who are going to receive a lot of shots against them. However the Clean Sheet and Wins combo of 10 points is more important. Every goal conceded is -2. The other games are all relatively close. Of the 10 teams, Chelsea look the more likely for clean sheets.
D – Ryan Bertrand. First of all he is cheap. Second it looks like he will be their first choice left back. I wanted a value defender to allow me good salary for a striker and this is good pick. This should be a good matchup for him in what could be an open game.
M – Ismaila Sarr. Has the M/F designation. From what we saw from Watford last season, especially after Munoz took over, he will be a big weapon for the team. Look at before and after. 3 goals and 2 assists in 16 games, then 10 goals and 3 assists. Happy to back him here. Villa in pre-season look wide open to counter attack.
F – Jamie Vardy. Always someone you can generally rely on starting and can be good for the goals. Danny Ings was tempting but I am concerned about his limited training pre-season.
If you want to play Daily Fantasy EPL or any other sports, we recommend FanDuel – $500 Deposit Bonus.
Follow @SBTSportBetting