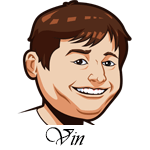 Follow @SBTSportBetting


[Get Exclusive Tips on our Patreon, Ad-Free
]
I realized something last week: I'm biased against the Packers. All of the signs pointed to the big game that we had last week and Aaron Rodgers going off definitely fit into my "start a QB who plays in prime time theory", but I didn't start any Packers. Why?
Because I live in Wisconsin and in Wisconsin all people ever talk about is the stupid Packers. How they are the greatest team ever, how they are going to destroy whoever it is they play and how Aaron Rodgers is the man. It's really annoying.
I have trouble seeing through it. I just assume that people are wrong because their positivity is too good to be true. Usually it is (like when the Packers played the Saints), but sometimes it's right on. To win in this silly game we call fantasy football I need to drop the bias. The Packers are just as good or just as bad as their stats say they are. Nothing more. They aren't the opposite of whatever some idiot in a #12 jersey says they are.
So let's drop our biases and win some money. This is the week I win big money on FanDuel. I can feel it!
Fantasy Football Sleepers Week 11: QUARTERBACK
DRAFT
Mark Sanchez: Do you believe now? He's ranked somewhat low this week because he's going to Green Bay to face the red hot Packers. Which… okay. The Packers just destroyed the Bears, that's true, but their previous opponent, the Saints, dropped 44 on them. Which offense do you think the Eagles are more similar to: the Bears or the Saints? Exactly.
Ben Roethlisberger: He finally fell back to earth last week, but even in doing that he still threw for 343 yards which was his third straight game over 340. The five touchdown games may be gone, but I think he is still top five going forward. His receiving corp is just that good.
Ryan Mallett; Bit of a risky play, but Bill O'Brien wanted Mallett since he got the job because he knew his offense. He has a big arm and he definitely has the weapons to get the job done.
DON'T DRAFT
Jay Cutler: Things won't get much better for him against the Vikings defense.
Drew Stanton: Don't get cute. The Lions are still the Lions. He will be on his back all day.
Fantasy Football Sleepers Week 11: RUNNING BACK
DRAFT
LeSean McCoy: Your weekly reminder that the Packers defense is giving up 142/yards per game.
Mark Ingram: Bengals are allowing 130 yards per game on the ground and his backfield mates are still hurt. Also, Saints at home. YES YES YES
Steven Jackson: On a two game stretch of his best football of the season with touchdowns in both. If he's really back, he'll do it again this week against the sad Panthers.
DON'T DRAFT
Ronnie Hillman/CJ Anderson/Montee Ball: One of these three will have a great game. Which one? Nobody knows.
Fantasy Football Sleepers Week 11: WIDE RECEIVER
DRAFT
Jordy Nelson: Why is he on this list? Simple. The bad bye weeks are over and he's priced more reasonably because of it. One of his better prices of the season against a team that has been allowing monster games to opposing WRs all year.
Andre Johnson: New quarterback means new possibilities. The Texans have been saying all year that they'd like to get Johnson more involved, Mallett is their chance.
Jordan Matthews: Monster game last week, but he didn't get the usual price bump for it. Maybe Sanchez likes throwing to him? Last week he was targeted 9 times compared to Maclin's 7.
Kelvin Benjamin: He gets the ball thrown to him a lot. Does he always do something with it? No, but he gets the ball thrown to him a lot. Especially in the end zone.
DON'T DRAFT
TY Hilton: Revis Island is a place on earth and the Patriots are #1 defending WRs.
Alshon Jeffrey and Brandon Marshall: The Bears are dead. Sorry, Chicago.
Fantasy Football Sleepers Week 11: TIGHT END
DRAFT
Coby Fleener: With Hilton covered, Luck will look to his tight end.
Antonio Gates: He's due for a touchdown, right? It's been like a week
Travis Kelce: People say it all the time and I'm not even sure if it's true anymore (Larry Donnell had four catches for 26 yards last week), but tight ends can have success against Seattle. We know that Dwayne Bowe won't have success so Travis Kelce is worth a shot here as a red zone favorite of Alex Smith.
DON'T DRAFT
Zach Ertz: I think he's over now. Only two catches in the last two weeks. Yeah, I think it's over.
Fantasy Football Sleepers Week 11: DEFENSE
DRAFT
Detroit Lions: I don't care if they are the #1 ranked defense, DREW STANTON is starting. This could get ugly.
Minnesota Vikings: Three double digit scoring games this season, zero negative scoring games, Jay Cutler and a Bears team that has seemingly given up. What's not to like?
Arizona Cardinals: Pretty cheap this week for a team that is averaging 10 fantasy points per game.
DON'T DRAFT
San Diego Chargers: Beware the obvious game that seems too obvious.
Follow @SBTSportBetting