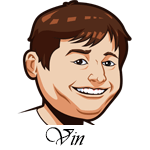 Don't forget.
That's my advice. Don't forget what teams are capable of doing. Don't forget who teams are.
Last week I didn't tip Joe Flacco even though he was facing a Tampa Bay defense that had given up 300+ yards in three straight games. Flacco had 15+ points in every game this season, but I forgot. I forgot what Flacco was capable of, I forgot what Tampa Bay was capable of allowing. He threw five touchdown passes.
Last week I liked Wes Welker for the Broncos. I forgot that Peyton Manning loves Demaryius Thomas and Julius Thomas was more than he loves Welker. Don't forget.
What happened last week isn't as important as you think. The season is what matters. What teams are capable of is what matters. Don't forget.
Fantasy Football Sleepers Week 7: QUARTERBACK
DRAFT
Cam Newton: The Packers defense is allowing just 214.5 yards per game passing, but that's mostly because they are allowing 154 rushing yards per game. Guess what? Cam Newton is a rushing quarterback.
Colin Kaepernick: He'll need to do well going against Denver and he's coming off his best game of the season. The best thing about Kaepernick is that he's reliable. The monster carry-your-whole-team games are far between, but he never completely screws you like Eli Manning screwed me last week. Also, he's cheaper than Geno Smith. (That is not a typo.)
Ben Roethlisberger: I feel like Draft Kings is really overreacting to last week. He's still averaging over 16 points per game for the season and is facing a Texans defense that is allowing the fifth most passing yards per game.
DON'T DRAFT
Peyton Manning: The 49ers have the second best passing defense in the league and while I don't think they will shut down Manning, I think they'll have some effect. His price tag is way too high for a defense of that caliber.
Fantasy Football Sleepers Week 7: RUNNING BACK
DRAFT
Jamaal Charles: Fully rested after the bye week and healthier than he's been in weeks. The Chargers have been good, but not as tough against the run as you'd expect allowing 114 rushing yards per game so far. This game matters to both teams so I'm expecting a Charles heavy day with possibly his highest amount of carries thus far this season.
Eddie Lacy: The Panthers have been giving up heaps of rushing yards all season and could be just what the Doctor ordered for Eddie Lacy who has struggled. He also played great in his last home game for whatever that's worth.
Ben Tate: 25 carries last week and 22 carries the week before that. If he's healthy, the Browns seem content to run him into the ground. This week he faces the Jaguars who have been… not good against the run.
DON'T DRAFT
Pierre Thomas: His best game of the season last week, but a tough match-up against Detroit and the potential return of Mark Ingram should cut into his production.
Matt Asiata/Jerrick McKinnon: No idea who gets the carries for the Vikings this week so I'm staying away from both of them. I call it the Patriots Running Back Rule.
Fantasy Football Sleepers Week 7: WIDE RECEIVER
DRAFT
Brandon Marshall: In games where he is considered to be healthy he is averaging 20+ points. Coming off his best game of the season he appears to finally be getting healthy.
Steve Smith: Look, we just have to start playing Steve Smith ever week, okay? He's really good. Every time I try to count him out, he has a great game. I'm done counting him out.
Michael Crabtree: If the Kaepernick is throwing, odds are he is throwing it to Crabtree. With a game against Denver, Kaepernick WILL be throwing.
DON'T DRAFT
Dez Bryant: He's had tough games against good defenses. I think the Good Giants Defense shows up this week.
Brian Quick: I've been loving Quick thus far this season, but a match-up against Richard Sherman is just not going to end well for him.
Fantasy Football Sleepers Week 7: TIGHT END
DRAFT
Jordan Cameron: Hey, it worked out okay last week, right?
Vernon Davis: If he plays. For the same reasons as Colin Kaepernick and Michael Crabtree.
DON'T DRAFT
Heath Miller: Currently holding opposing tight ends under 50 yards per game.
Larry Donnell: He's much more Kyle Rudolph than Antonio Gates, unfortunately.
Fantasy Football Sleepers Week 7: DEFENSE
DRAFT
Tennessee Titans: Standard "I think Kirk Cousins will throw some picks" pick.
Pittsburgh Steelers: Just a hunch, but I like them at home against Ryan Fitzpatrick and the Texans. They'll give up yards on the ground, but they could have a turnover in them.
DON'T DRAFT
Green Bay Packers: I see Newton having a good game, ergo I see the Packers D not having a good game.