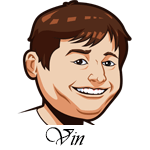 Follow @SBTSportBetting


[Get Exclusive Tips on our Patreon, Ad-Free
]
I write this column for you people, but I also write it for myself. There are times when I have already set my lineup and then I write this, and I have to go back and change things because there were things I didn't consider or things I didn't notice on the first draft. I write it to help you, but I really want to help myself win money too.
Of course, last week I decided at the last minute to ignore my own advice. I dropped Vincent Jackson and Khiry Robinson from my team and draft two different guys. The difference in that move was 27 points, but the real difference in that move was one-hundred-and-twenty-five. As in $125 US dollars. Which is how much prize money I cost myself making that move. I don't always nail all my sleepers and value plays, but when I do you can be darn sure that I didn't take my own advice.
My advice to you? Stick with your gut. If you believe in a guy, go with it because if you don't it mind end up costing you 125 smackers.
Fantasy Football Sleepers Week 6: QUARTERBACK
DRAFT
Eli Manning: Take away Week 1 and Eli Manning has two or more touchdown passes in each game. This week he faces the Eagles who are allowing the fourth most passing yards per game and most passing TDs in the league. I'll never truly trust Eli, but this week he seems like a sure thing.
Russell Wilson: I think the Denver game was a major turning point for Wilson. This is his team now more than ever and he will continue to put up numbers.
Blake Bortles: Just a gut call here, but the Titans have allowed 26 or more in four straight games and don't seem to be getting better. Bortles has moments where he looks great and with no real running game he should get the chance to throw. Not for the weak of heart.
DON'T DRAFT
Matthew Stafford: Tough Vikings defense plus the Lions annoying habit of playing down to their opponents level. Also, no Calvin Johnson.
Fantasy Football Sleepers Week 6: RUNNING BACK
DRAFT
Branden Oliver: Underpriced because last week is considered a fluke, but I don't see it as a fluke. This is an undersized guy with a ton of talent who hasn't got a chance because he's undersized. If he's getting that chance (which he fully deserves), he is going to do something with it. Especially against the Raiders.
Justin Forsett: It may seem like a platoon situation in Baltimore, but Forsett is clearly the man. He's averaging over 16 points per game and, more importantly, he's yet to dip below 10 points in any game this season. He's a big part of the passing game and the Ravens face Tampa Bay this week.
Knowshown Moreno: He wasn't originally expected back this week, but it is looking like he might play. With the Packers currently allowing a league worst 163 yards/game and a super-low price on daily fantasy sites, Moreno is definitely worth a look.
DON'T DRAFT
DeMarco Murrary: It's the irresistible force vs. the immovable object as Murray takes on the Seahawks defense. I don't like Murray's chances in this one, especially in a game I expect his team to be behind in.
Eddie Lacy: Back to fantasy disappointment for Lacy this week as he faces a Miami front seven that will give the Packers problems.
Fantasy Football Sleepers Week 6: WIDE RECEIVER
DRAFT
Victor Cruz: Riding with Eli on this one. The Eagles have allowed monster games to opposing wide receivers all season long. Why not Cruz?
Wes Welker: Wes Welker has been back for two games, but he has yet to score a touchdown. Do you think Peyton Manning doesn't know that? Do you think Peyton Manning doesn't want to take care of his buddy? With an easy match-up against the hopeless Jets, Welker should finally get his chance.
Percy Harvin: TWO touchdowns called back on penalty last week. Do you know how much money that cost me?! Harvin will have his revenge.
DON'T DRAFT
Golden Tate: If Calvin Johnson doesn't play this week, guess who becomes the number one receiver? This won't be a repeat of last week. Minnesota's defense is tough and Tate is good, but not that good.
Fantasy Football Sleepers Week 6: TIGHT END
DRAFT
Jordan Cameron: I still believe in this guy and a match-up against the team that knocked him out with an injury could be just what the doctor ordered. Cameron had two catches for 47 yards in that game before getting hurt (which is the smallest sample size possible, but still) which could bode well for his performances over a full game.
Jason Witten: A bit of a gut call, but tight ends can have big games against Seattle when no one else on their team does. Antonio Gates' 3 TD game came against Seattle. So, maybe?
DON'T DRAFT
Zach Ertz: His price is super attractive, but the Giants have defended opposing tight ends very well so far this season.
Fantasy Football Sleepers Week 6: DEFENSE
DRAFT
Miami Dolphins: Haven't allowed a 300-yard passer all season, great sack numbers and three out of four games with 10+ fantasy points. This could be trouble for the Packers.
Washington Redskins: They are likely facing a third string quarterback who went 1-for-8 and looked lost in his time out there last week. If they were able to sack Russell Wilson three times then Logan Thomas should be no problem.
DON'T DRAFT
Green Bay Packers: Way overpriced after last week.
Follow @SBTSportBetting