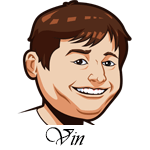 We're getting close. The end is near and there is nothing we can do about it. Only two weeks of regular season fantasy football left.
Sure, there is still fantasy football in the playoffs and it is a lot of fun in it's own way, but the craziness of the regular season isn't there. Ben Roethlisberger stops having 5 TD games, Andy Dalton stops having decent games and you can no longer play the "who do the Jaguars play?" defense game. The regular season is fun, the playoffs are all business.
This week remember that this is fun and that you are doing it for fun. Pick some guys from your favorite team, make sure you have a player from whatever your local early game is and don't pick anyone who will break your heart. Let's just have some fun out there.
QUARTERBACK
DRAFT
Alex Smith: You know what you're getting with Alex Smith. You're not getting 500 yards or 5 TDs, but you are getting some solid play and lots of screens. I like his match up this week against the Steelers who have been allowing the most points to opposing fantasy QBs over the past five weeks. With high priced QBs like Manning and Luck crapping the bed last week, the quiet consistency of an Alex Smith might do your team well.
Josh McCown: Two things I like about McCown this week: He's going to be losing this game and will thus throw more and Mike Evans doing a poor man's Julio Jones from two weeks ago. I said it last week with Watkins and was wrong, but Evans fits the mold much better than Watkins did.
Robert Griffin: The last time the Redskins faced the Eagles Kirk Cousins threw for over 400 yards and 3 TDs. For the season, the Eagles are allowing the 2nd most points to opposing QBs. Is he the most reliable QB this week? No, but he is worthy of being our Buy Low QB of the Week.
Case Keenum/Thad Lewis: I am not really recommending either, but the Ravens secondary has allowed the 3rd most yards this season and.. nope, sorry, can't recommend them in good conscience.
DON'T DRAFT
Ben Roethlisberger: The Chiefs haven't allowed a 300 yard game to an opposing QB all season and have only allowed 3 TDs once.
Ryan Lindley: He's the cheapest starting QB available for a reason. The reason is he is not going to do well.
RUNNING BACK
DRAFT
CJ Anderson: Why he isn't a top 5 valued running back at this point, I don't know.
Shane Vereen: When you take a Patriots RB you need to do so understanding the risk that they might not do anything. That if they fumble they might not play another snap. It's a risky play, but when it pays of it pays off huge. Last time the Patriots played the Jets, it was the Shane Vereen show. Will it be again?
Pierre Thomas: This game between the Saints and Falcons is expected to be the highest scoring of the week by Vegas. To me, that means passing and Drew Brees dumping off to his favorite pass catching running back.
DON'T DRAFT
Matt Forte: A sad state of affairs in Chicago right now. The Lions defense and Jimmy Clausen will not make Forte better.
Jeremy Hill: Here's a fact I didn't know: The Broncos are one of only two teams to hold opposing RBs under 800 yards thus far this season.
WIDE RECEIVER
DRAFT
Mike Evans: I am fully expecting Evans to dominate the Green Bay secondary in a way that only Julio Jones has.
Harry Douglas: If Julio Jones doesn't play, he's top ten. If he does, he's top 20. This will be a high scoring affair. There will be plenty of catches to go around.
Marques Colston: Saints/Falcons. High scoring game. You know the drill.
DON'T DRAFT
Dez Bryant: The Colts defense has been dominant against opposing WRs this season, allowing only 11 TD catches on the season. When you consider that five of those came on one Sunday against the Steelers, yeah, they've been pretty good.
Alshon Jeffrey: Jimmy Clausen plus Lions defense plus no Marshall on the other side of the field equals you couldn't pay me to start Alshon.
TIGHT END
DRAFT
Travis Kelce: Back to back 12+ point performances and I like his QB this week. What's Smith going to do, throw it to a WR? Please.
Jason Witten: As good as they've been against WRs, the Colts are third worst against opposing TEs. They've scored 7 or more points in 8 of 14 games. Romo has to throw to someone, right?
Jordan Cameron: A gut call here, but Johnny Football can't be that bad again, right!?!? The TE check down should be his best play and Cameron has the talent.
DON'T DRAFT
Julius Thomas: Still don't think he's healthy.
DEFENSE
DRAFT
Carolina Panthers: Just in case Johnny Football is that bad again.
Buffalo Bills: If they did that to Aaron Rodgers last week, what will they do to Derek Carr this week?
DON'T DRAFT
Miami Dolphins: If it seems too easy, it probably is.
Atlanta Falcons/New Orleans Saints: The over/under on this game is 55. There is no defense in 55.