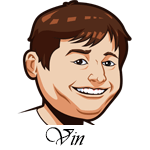 Follow @SBTSportBetting


[Get Exclusive Tips on our Patreon, Ad-Free
]
October 8th, 2014 is the big day – the NHL season returns.
After a great season last year, we're all hoping for another exciting season and we know you're all busy right now doing your fantasy hockey pools, with everyone hoping to be #1 just so they can get Mr. Sidney Crosby.
We thought it would be a good idea to go over a list of potential fantasy hockey sleepers. We'll do a few for each position, and these are the guys you should look at drafting. The world POTENTIAL is key as that's what all these picks are. We can't guarantee anything but hey – you just never know, and they all have a lot of potential.
Also if you're going to be participating in Daily Fantasy Sports – head on over to FanDuel Daily Fantasy Sports who do the best NHL Daily Fantasy Sports, and then pick up some of these sleepers for the first few games. Trust us.
Fantasy Hockey 2014/2015 Sleepers: Goalies
The first sleeper goalie that stands out is Ben Bishop. The guy is great, and the Lightning have Stamkos back plus solid defense now on all their lines. Lightning are going to be a very offensive team now and Bishop should have his full share of shutouts.
Next is Kari Lehtonen, goalie for the Dallas Stars. A lot of big changes at the Stars with the likes of Spezza and Hemskey. If your league gives points for the goalie based on wins, then Lehtonen is going to get a lot of those.
We also like Frederik Andersen as long as he can retain the #1 spot. The only concern about him is Gibson. Andersen is one you can probably pick up late, sit on the bench and play selectively.
Fantasy Hockey 2014/2015 Sleepers: Defense
When you look at who is going early, a lot of people are missing out on Duncan Keith, preferring the likes of Subban and Weber. Understandable, but the two-time Norris Trophy winner is always a good pick so don't feel bad if you miss out on P.K.
We also love Brent Burns purely for the goals. He should be good for 20 goals this season which can be huge depending on your fantasy leagfue setting.
Finally in defense we have to go with Mike Green. We're expecting a lot from the Capitals this year, and we think he will have a massive year in particular.
Fantasy Hockey 2014/2015 Sleepers: Wingers
Let's go with the Left Wingers first.
James van Riemsdyk is always good for the points. He's always reliable no matter how well or how badly the Leafs are doing, and he could end up being one of the best wingers in hockey if things work out well with him and Kessel this year.
After last year, the Sedins fell down a lot in the rankings but Daniel Sedin is still a great pick. Canucks were horrible last season but we wouldn't be surprised to see a much bigger year, lead by the Sedins.
Finally for the left wing, you have to go with Brandon Saad. This is a risky, risky bet but one that we like. Just like Andersen, pick him up and play him selectively.
Onto the Right Wingers.
First one that stands out is Rick Nash. While everyone else is picking up Perry and Ovechkin, go with Rick Nash. He's one of the best power forwards in hockey, and we think he is going to have a huge year.
We also really, really like Radim Vrbata. It's a risk, but if he picks up the chemistry with the Sedins that could be one sick lineup.
Finally for right wingers, Ales Hemsky Another risk – he was developing well with Spezza and it's sad to see him gone – but there's no pressure there this year so Hemsky will be a late pick that's worth rolling the dice on.
Fantasy Hockey 2014/2015 Sleepers: Centers
Speaking of, you have to go with Jason Spezza. Dallas did a lot of rebuilding and Spezza is playing without the pressure he has had over the last few years. We like him for big numbers.
Brad Richards is another one – he is going to have a lot of PP time, and is going to have some great wingers backing him up.
Finally for the center sleepers, go with Nathan McKinnon. This kid is just doing to grow and grow.
Follow @SBTSportBetting