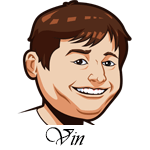 Follow @SBTSportBetting
We continue our look at the 2016 MLB Win Totals today with the next eleven teams win totals including the defending World Champion Kansas City Royals who could be in for a much different experience in 2016. All win total odds are courtesy of Bovada.
Houston Astros
Over 87.5 -115
Under 87.5 -115
I feel very confident that the Astros will win 86, 87 or 88 games this year. In other words, no thanks.
Kansas City Royals
Over 85.5 -115
Under 85.5- 115
The ultimate projection vs. reality team is back for more. The last few years we've seen the Royals projected for a low win total and then outdo that number, going so far as to win the World Series last year. This year is more of the same as PECOTA has them at 76 wins and Fangraphs have them at 74. I'm on the side of the projections this year and going under 85.5 wins.
The loss of Greg Holland hurts, we saw a lot of career years from hitters last season and the rotation is it's typical uninspiring bunch. If the bullpen isn't able to repeat it's dominance, this team isn't doing what it's done again. The World Series hangover is real.
Los Angeles Angels
Over 81.5 -115
Under 81.5- 115
How good do you think Mike Trout is? I mean, he's really good and the best player in baseball, but is he enough to carry a 70-win team to more than 81.5 wins? I say no and under 81.5 wins.
Los Angeles Dodgers
Over 88.5 -130
Under 88.5 EVEN
Seems about right.
Notable Upcoming Bets:
Miami Marlins
Over 79.5-115
Under 79.5-115
The Marlins are a really hard team to project this season. A healthy Giancarlo Stanton and Jose Fernandez is a big help for them, but is it 10 wins better than last season? They have young players, but do they all make the leap at the same time? Do any of them? Staying away here.
Milwaukee Brewers
Over 69.5 -115
Under 69.5 -115
This might be an under play simply because of the division they play in. They have to play a lot of games against the Cubs, Pirates and Cardinals who were the three best teams in baseball last season and should all be very good again. This is a rebuilding year for them and they plan to be bad, but that bad? I don't know.
Minnesota Twins
Over 78.5 -150
Under 78.5 +120
They definitely over performed last season with some great cluster luck. That isn't really sustainable and I could see them taking a step back this season. 78 wins seems about perfect though.
New York Mets 
Over 89.5 -150
Under 89.5 +120
The Braves and Phillies are expected to be two of the worst teams in baseball this season and the Mets play a lot of games against them. That could get them an extra win or two and push them to 90-91 wins, but at -150 this bet isn't worth the risk. It'll just be too close.
New York Yankees
Over 85.5 -115
Under 85.5 -115
The Yankees will blow out this projection, but I'm not sure which way. If things go right, the old guys hit and the starters stay healthy, they could be a playoff team. If things don't go right, this could be one of the worst Yankees teams we've seen in a decade. I truly don't know which way it'll go.
Oakland Athletics
Over 75.5-115
Under 75.5-115
This line seems way too low for me and over 75.5 wins feels very doable for this team. The only thing that worries me about Oakland is if they start off slow. A slow start could see them selling off some parts like they always do which makes this a riskier proposition than it seems.
Philadelphia Phillies 
Over 65.5 -150
Under 65.5 +120
This is going to be a bad team, possibly the worst in the league. They won 63 games last year and could hit that number again.
Best Bets:
Los Angeles Angels Under 81.5 Wins
Good Bets:
Kansas City Royals Under 85.5 Wins
Oakland Athletics Over 75.5 Wins
Bet baseball futures at: Bovada
Follow @SBTSportBetting