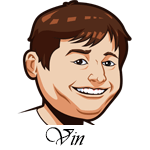 It had been nine months since the last NBA trade before things kicked off yesterday. That turned out to be a big day of action as Chris Paul went to the Suns, Dennis Schroeder went to the Lakers, and Bogdan Bogdanovic and Jrue Holliday went to the Milwaukee Bucks. This is only the beginning and we could see a lot more going forward.
James Harden is the big name and the Nets rumors are not going away. That one is starting to seem more like a matter of if than when. The Russell Westbrook talk is also there and the Hornets are being linked to him. You have to wonder if that's a situation where Harden gets traded and then Russ says, "you know what? I actually love Houston." Then again, once you make these demands it's hard to untie that shoe.
All of the free agency moves has really put a spotlight on tonight's draft. The Warriors have the second pick and they are definitely in a win-now mode. That pick is available if the price is right. I wouldn't be surprised to see a lot of action tonight and the current draft order could look much different before things are all said and done.
Best Odds for NBA:
NBA Draft Betting Tips:
1st Overall Pick:
LaMelo Ball -140
Anthony Edwards -110
James Wiseman +650
Deni Avdija +8000
The top pick in the draft is up in the air right now. Many people see LaMelo Ball or James Wiseman as the best player in this draft, but the Wolves don't think those players would fit alongside D'Angelo Russell and Karl-Anthony Towns. Why that matters when your team was one of the worst in the league, I don't know. They are looking towards Anthony Edwards right now, but the Ball talk is not going away.
The thing that scares me about picking Edwards with the top pick is that the Wolves have been looking to trade down, ideally with Charlotte at third. I think that means they believe that they can still get Edwards at that spot so I am not going to be making a bet there.
No pick because I believe there is going to be a trade here.
2nd Overall Pick:
James Wiseman EVEN
Anthony Edwards +240
LaMelo Ball +300
Deni Avdija +1800
This one I feel much better about. He is a great fit on the Warriors and he could be like a super-charged version of what they once had with Javale McGee. He's a good rim protector which plays well alongside Draymond Green. He has his weakness, like all of these players, but he is an athletic freak and has a ton of upside.
Again, there is the trade worries here, but the only real trade rumor out there is LaMarcus Aldridge from the Spurs and the 2nd overall pick is way too much to give up for a player his age. I think the Warriors ultimately end up making this pick for themselves and go with Wiseman.
Bet James Wiseman 2nd overall pick EVEN
Deni Avdija Draft Position – 4.5
One of the top foreign players in this draft is Avdija and I can see him being a top four pick. For instance, if that trade with the Spurs and Warriors is real then Avdija is definitely the kind of player that they would target. He's 6'9″ with the playmaking ability of a guard and I can see him drawing a lot of interest. Especially in a post-Luka Doncic world. He must improve his shooting, but everything else in his game is ready to go. There are some teams who see him as the top player in this draft so him going below fourth would shock me.
Bet Deni Avdija Draft Position – Under 4.5 -140
University Of Arizona Players Drafted In The 1st Round – 1.5
Josh Green is the type of player that everyone is looking for: he hits threes and he plays defense. There is no way he escapes the first round.
I am also confident that Zeke Nnaji is going in the middle of the first round. He's a center who can hit threes and we know how valuable that is. He averaged 19.4 points per game as a freshman with good rebounding numbers. He's rising up the draft boards and he should join Green in the draft.
Bet University Of Arizona Players Drafted In The 1st Round – Over 1.5 -130
Best Sportsbook To Bet NBA:
Register an Account.
All betting odds and props will now be viewable under the event listing.
You can deposit to BetOnline via over 20 different options such as credit card.