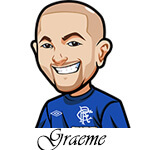 Follow @SBTSportBetting
We crushed it last week as we ended the week with a 2-0 record.
I took the Chiefs -10.5 over the Patriots. That one was a wee bit dicey in the early going but luckily Mahomes & co stepped up with a big 20 point 2nd half and got us the win there.
In the other game it was Packers -6.5 and they easily covered.
My NFL games record now moves to 31-17. Just an exceptional start to the season and I hope you are all tailing.
We turn our attention to tonight now. This week is a bit iffy due to COVID positive tests. Last I heard the Titans had another freaking one. We'll just have to see how it all goes.
Tonight in Thursday Night Football we have a fun one. The Tampa Bay Buccaneers go up against the Chicago Bears. Going to be an intriguing game.
Let's have a look:
Bucs vs Bears Betting Tips:
The Bucs are 3-1 to start the season. They had that loss against the Saints which caused everyone to declare Tom Brady is done. They've now scored 28+ points in every game with that massive 38-31 victory over the Chargers. Many thought Brady would struggle with that defence but that was not the case.
The Bears are a 3-1 team as well having lost to the Colts last week in a tough one. Before that they beat the Lions, Giants and Falcons which at this point of the season doesn't exactly look like a murderers row of teams.
The Bucs are 3.5 point favourites going into this with the over/under at 44.5.
Bucs have a bit of an issue with injuries. Evans, Godwin Miller and Watson missed a couple of practises. Howard is out as well of course. Bears generally stop the QBs from racking up the points as well.
However on the flip side we have Nick Foles and if you watched that Bears game last week – yikes. Not exactly appealing.
Bucs run defense has been excellent too so Foles is going to have to step up in a big way.
I hate betting the under in any sport. I'm just not a fan of cheering on defensive plays etc. Especially when it's a prime time game like this. It doesn't make for enjoyable viewing.
However I just struggle to see where a lot of the points come from here. Both offenses look neutered and bar some sloppy defensive play, this one may not be a barn burner.
1u on Under 44.5 Pts
Help us Out: Bet Here
Register an Account.
All betting odds and props will now be viewable under the event listing.
You can deposit to BetOnline via over 20 different options such as credit card.
Follow @SBTSportBetting