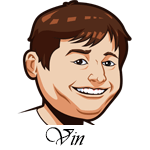 A 3-0-1 record last night.
A great night last night as all three picks came in and we didn't lose. That's 6-1-1 on the week so far as well.
We laid the runs with the Braves and they made it close, but pulled through with a 2-0 win.
The Athletics saved their series with the Astros with a big 9-7 win. This one was almost disastrous when the Astros had a five run fifth, but Oakland stormed back with three in the 7th and two in the 8th to grab the win.
Finally, the Rays came up big to take a 2-1 lead in their series with the Yankees. We thought they would hit Masahiro Tanaka and they did, tagging him for five runs in four innings.
We took under five runs in the first five innings of the Dodgers/Padres game, but it ended right at five. Kershaw was brilliant, but Davies allowed four runs to give us the push.
Today could be the last day of four games. Let's rock it.
Best Odds for MLB:
All tips based on the starting pitchers listed. Tips should be considered void if any pitching changes are made unless otherwise noted. Occasionally the "follower" will be listed as we are betting on who will pitch the bulk of the innings.
Miami Marlins vs. Atlanta Braves Betting Tips:
(Game will take place at Minute Maid Park in Houston.)
Braves: Kyle Wright 5.21 ERA/5.90 FIP
Marlins: Sixto Sanchez 3.46 ERA/3.50 FIP
A funny game as the system likes the Marlins in the first five, but the Braves overall. That definitely gives me pause as a great Sixto start could really screw things up. He faced the Braves twice this season with one good start and the second, his last of the season, seeing him give up four runs in three innings.
I don't trust Kyle Wright at all, but the Marlins offense isn't the scariest either. Wright did post his best three starts of the season over his last three starts of the season. I can't imagine him having a particularly long leash here as the Braves look to close up this series.
Don't feel great about Wright, but the Braves offense and bullpen have earned this bet. The line is pretty good here, but that's the price you pay for betting on Wright.
Houston Astros vs. Oakland Athletics Betting Tips:
(Game will take place at Dodger Stadium in Los Angeles.)
Astros: Zack Greinke 4.03 ERA/2.80 FIP
Athletics: Frankie Montas 5.60 ERA/4.74 FIP
A double pick here.
The Astros have made the decision to go with Zack Greinke as they look to close out this series. He is coming off of seven straight starts where he allowed three runs or more. A few of those were actually bad, but his overall stats paint a much different picture. He had a ridiculous BABIP during this time and a very low left on base percentage. He was unlucky and I believe we are going to see a much different result here today.
Montas had similar bad luck on the year, but he was also just bad. A big walk rate and a 1.7 HR/9 rate could spell some trouble for him here today and I think the Astros score off him early.
The total on this one is set at 9.5 and I just don't quite get that. The wind might play a factor so I suppose that could be it, but still it seems too high. This park dampens offense and even if you put this on a neutral ground (which the system accounts for) the system still thinks it is a run too high.
Bet Astros/Athletics Under 9.5 Runs
New York Yankees vs. Tampa Bay Rays Betting Tips:
(Game will take place at Petco Park in San Diego.)
Rays: Ryan Yarborough 3.56 ERA/3.80 FIP
Yankees: Jordan Montgomery 5.11 ERA/3.87 FIP
The sportsbooks have the Yankees as a -138 favorite, but the system sees almost the exact opposite.
Jordan Montgomery had an unlucky season with a high BABIP and low left on base percentage, and things could stay bad for him today against the Rays. Tampa Bay had a 121 wRC+ against lefties on the season and they can definitely make him have a short day here.
Ryan Yarborough won't be making the start here, but he should make up the bulk of the innings in this one. This is where that kind of thing will really come in handy as he'll avoid the top of the order the first time through and then be seeing them fresh the second time through. This Yankees offense is tough, but this team has a knack for using Yarborough only exactly as long as he's needed.
The Rays can finish this series tonight.
San Diego Padres vs. Los Angeles Dodgers Betting Tips:
(Game will take place at Globe Life Park in Arlington.)
Dodgers: Dustin May 2.57 ERA/4.62 FIP
Padres: Adrian Morejon 4.66 ERA/5.93 FIP
The Dodgers are a big -180 favorite to close out the series with Dustin May on the mound. May was luckier than good on the year and gets a tough match-up against the Padres here. He faced San Diego three times in the regular season and while his runs allowed were down, he allowed four homeruns in those three starts. He only allowed nine homeruns all season so it's fair to say that the Padres have his number.
Not sure what to expect from Morejon. He never made it past the third inning in any start this year and allowed seven homeruns in ten games. So we're going to see some bullpen here. The Padres bullpen is relatively rested thanks to Davies making it five innings yesterday, but it's going to be all hands on deck here.
The system likes runs here and the best bet looks like the first five. Both of these starters can give up the long ball and both of these teams can hit them. It's going to be warm in Texas and if the roof is open, we should see some fireworks.
Bet Padres/Dodgers Over 5 Runs First 5 Innings
Best Sportsbook To Bet MLB:
Register an Account.
All betting odds and props will now be viewable under the event listing.
You can deposit to BetOnline via over 20 different options such as credit card.