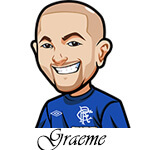 Hi all,
I skipped last week and things are going to be short this week. Had a family emergency which required me to fly to Scotland at the drop of a dime and with a lot of stuff going on I just didn't have a chance last week.
Golf tips and analyzing the data are a welcome distraction however I'm now out at my cottage for a much needed vacation and it's a bit of a pain in the arse doing the work on the laptop.
So I've not put in the work I usually do and will stick to smaller bets. No write-up this week but hopefully back at it next week when everything settles down.
3M Open Betting Tips:
Kevin Na – 40/1. 1/4u to win & E/W
Michael Thompson – 125/1. 1/8u to win & E/W
Rory Sabbatini – 33/1. 1/4u to win & E/W/
Sungjae Im: 40/1. 1/8u to win & E/W
Collin Morikawa: 80/1. 1/4u to win & E/W
Irish Open Betting Tips:
Jorge Campillo: 60/1. 1/4u to win & E/W
Matthew Southgate: 125/1. 1/8u to win & E/W
Jordan L Smith: 40/1. 1/4u to win & E/W
Bernd Wiesberger: 50/1. 1/2u to win & E/W