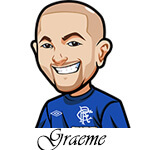 Follow @SBTSportBetting


[Get Exclusive Tips on our Patreon, Ad-Free
]
Well it was a big week last week in the golf!
2021 was a tough year for the golf betting with an overall loss for the season. Yet we wiped that out in one week and then some, with a massive week last week.
To pick both 40/1 and 90/1 players, and have them enter a head to head playoff together? Amazing stuff and felt great. This is a top 5 golf betting moment for me. I still think my favourite was back in 2014, when I had a flight scheduled for Scotland. Bet on Mi Jung Hur to win the LPGA Classic at 40/1 odds, and after she won I immediately went and upgraded my flight to first class!
Here are the betting slips for those: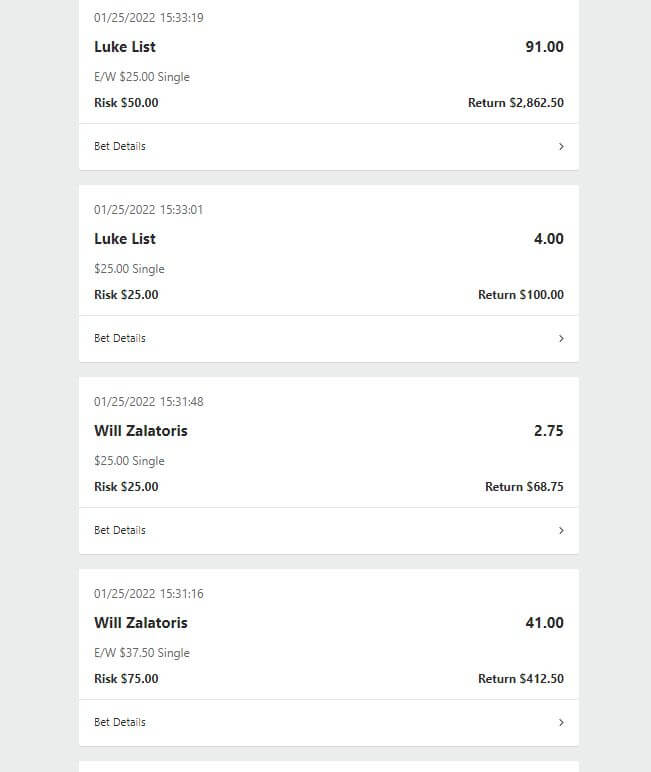 That makes THREE profitable tournaments in a row to begin the year. Great start and hopefully it continues. During the break over Christmas I did make some tweaks to my system. Not sure if that is the factor or whether it is just variance.
Whenever I have a big win, I always feel obligated to remind you that golf has a TON of variance.
I always like to show this chart: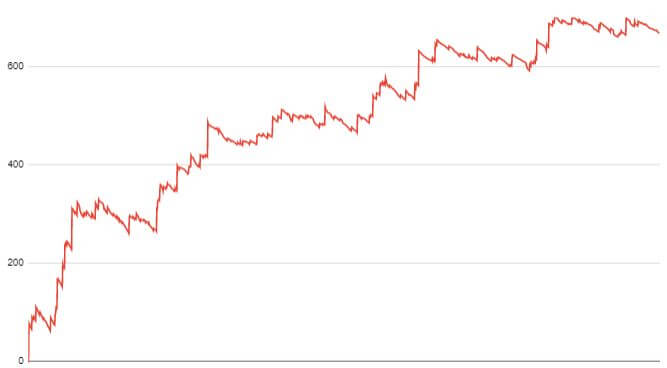 Notice there will be lots of downward trends, followed by a big spike. That is the stats for 2014-2020. I had just a 13.6% win ratio and many of those wins were small wins when a 25/1 guy comes 4th etc.
Basically use proper bankroll management, don't go crazy. I mean look at the size of my bets last week – my normal betting amounts are $125-$1000 usually but I've lowered them a fair bit lately as after last year, I just wasn't having the same confidence as previous years.
Let's get to it:
Pebble Beach Pro-Am Betting Tips:
Lets see what we got this week. I should note initially I was going to skip this as I'm never a fan of the mix of amateurs, and the multiple courses. But I am in a few private golf contests, and while studying the data for some picks I thought ah there's a few opportunities here – let's give it a whirl.
BTW I want to quickly note that I don't advise Draftkings for fantasy golf. It's just too insane you need to pick absolutely perfectly. As an example I had the two guys tied for FIRST last week, and another golfer who made the cut – and I still didn't even get ANY money back from my $20 entry. I don't feel it is long-term +EV.
Betting Note
: Betting amounts are based on confidence level. My normal betting amounts for the PGA are $125, $250 & $500, although I will go as low as $62.50 and as high as $1,000 on occasion. My most common bet is $125 and if you classify that as 1 unit, then I have made a
667.93 unit profit
from 2014-2020. (
full stats
)
E/W (Each-Way) bets mean you split that amount. So if it is a $250 E/W bet, that means $125 on them to win, $125 on them to place (Usually in the Top 5)
Max of $50 this week on each.
$50 on Maverick McNealy E/W – 25/1.
If you follow anyone other than me for golf then you've probably seen Maverick mentioned this week. I had a look around and everyone seems to be on him. I'm surprised we're still getting 25/1 on him. I believe he opened at 28/1.
He suits this course fairly well (I have him in the 5th-10th range), and from what I've heard he has played here a ton even outside of tournaments so knows it well. He's certainly performed well here last two times with a 5th and 2nd. Well worth a punt as this dude is destined for a win this year.
$50 on Russell Knox – Top 20 Finish – 17/4
Based on the data, I think Knox could even sneak into top 10 here. He fits this course well. His course form is solid enough and in the last four years, he has had a 7th place, 15th place and 14th spot. Coming in off the cut t the American Express but that was a strict cut and a tough one. Played well at the Sony Open, and a week off might do him well.
$20 on Austin Eckroat Top 20 15/2, $30 E/W at 275/1
Popped up for me as someone who could perform at this course and do surprisingly well. I looked into his data more and yep he might just be a surprise. Top 20 is obviously the much safer play and a nice price – but man, 275/1 odds was just too tempting not to jump on. Funny how that is – at 80/1 I don't mind passing on Knox, but this one I just had to get on it too.
A couple of other possibilities are Bezuidenhout and Pereira but lack of course form plus not coming in burning hot put me off them.
Also just a personal thing but man I'd love to see Jason Day come out with a vengeance here.
Support Us
: We now have a Patreon where we provide some tips exclusively to people who support us on there.
Join them!
Follow @SBTSportBetting