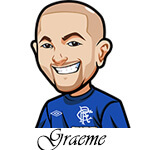 I hope everyone was following last weeks tips for my biggest outright winner since I started this site in late 2015!
I've had quite a few 40/1 wins and 50/1 wins but last week, coming just a week after a 22/1 win AND a 10/1 win, I managed to lock up a 66/1 winner.
I backed Eddie Pepperell in the Qatar Masters and Eddie absolutely dominated the tournament – leading at the end of the first round and just playing excellent the whole way through.
It could have been an even better week too as we went into the final round looking like we were going to be also getting 18/1 wins and 17/1 wins thanks to David Horsey and Sean Crocker. All they had to do was place in the Top 5 for those.
Alas Crocker shot a +4 and Horsey could only come in par.
Oh well – here's the Eddie Pepperall betting slip:

Absolutely great run I'm on and just a reminder that these betting tips are all free. I don't sell them or hide them behind a paywall or anything like that. The only thing I do on occasion is ask people to share the tips socially and get more eyeballs on them.
I've managed to pick a winning bet every single week of the year thus far. If you've won anything please do me a big favour and just share the tips site out. If you have a blog, throw a link to it. If you have a Twitter or Facebook account, post it on there.
Let's get as many winners as possible!
And if you're someone who was recommended to visit here, subscribe today:
This week we've got the Tshwane Open. Fond memories of that one as last year I also bagged a winner in Dean Burmester:

Let's get to the tips this week. I've thrown them behind the social wall this week after last weeks big success – let's get sharing and get winning!
And just a quick reminder – golf is a high variance sport. I've been killing it lately but it's common to go on a drought of a couple of months as well. We're not going to be bagging 60/1 winners every week. So utilize proper bankroll management and bet accordingly.
WGC Mexico Betting Tips:
Quite a few players skipping this one, and also quite a few players who skipped Honda to get some rest in for this one. Really looking forward to this tournament. Course history isn't a big factor with just the one event held here previously.
I actually agree with the sportsbooks in this one that DJ & JT should be the top two. Their stats all align with what I expect on this course. However I think the odds are just too short to back either of them.
I'm doing long shot bets on Pat Perez and Webb Simpson at about 80/1 and 50/1. Both to win & E/W, a 1/4 unit on Pat, a 1/2 unit on Webb. Webb didn't play last year but has solid form and I think taps up well for this course, and Pat had a respectable 38th place finish last year and has been in decent enough form. I also think stats wise he clicks here.
Finally a 1/4 unit bet to win & E/W on Phil Mickelson. Feel like I've picked him a lot this year – and he did win us money at Pebble Beach – however when I was running the metrics today, his name kept popping up. Not a big fan of the price on him hence the 1/4 unit bet.
Tshwane Open Betting Tips:
I'm reeeeeeallly not feeling this one. Never liked this South African part of the tour even though we've bagged a bunch of winners. And when I run what I feel are the key metrics for this course, the top two guys are fairly short odds and not really in any type of form either(Suri & Bjork). You really need to be in the zone for this course.
This is one week where if I did 1/8 bets I'd probably do that ha. But the lowest I do is 1/4 bets so let's go with that.
1/4 unit bets to win & E/W on:
– Thomas Aiken
– Adilson Da Silva
– Scott Jamieson
– Ryan Evans
– Justin Harding
Bet these at your peril!
HSBC Womens Championship:
Stacked field here as they play at the Tanjong Course – only the 2nd time they're playing here. Inbee Park won it last year – her 2nd time winning this tournament – thanks to an incredible final round
Inbee Park: A 1/4 unit on her to win. She's in form, and although it took a big round last year she generally had solid consistency with 67-67-71-64.
Sung Hyun Park: Really when you look at her performances over the last little while I should be backing her more often. Not a big fan of the short price and she could never get past that -4 here last year 1/4 unit to win.
Michelle Wie: A real hot/cold golfer and she started this year with a solid performance in the Bahamas. Price is right and 1/4 unit on her to win & E/W.
Brooke Henderson: 1/4 unit to win & E/W. She came in strong in the Bahamas as well and she showed last year she can really rally on this course. She had two really strong rounds. I'm also betting a 1/4 unit to win & E/W on her being the first round leader.