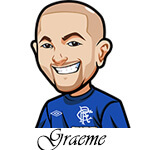 We take down another major with the winning pick of Gary Woodland at 80/1 to win the US Open!!!!
What a tournament that was and what a performance that was by Gary.
We also had Adam Scott getting us the E/W cash for a pretty darn good week.
it was a rather nerve wracking Sunday as Brooks looked like he might just bloody do it again. Man that was cutting it close at times. After doing the tips last week I was sooo close to coming back in and making a new post to say back Brooks as well.
What a performance by Woodland though. I was feeling confident about his driving ability but wasn't sure about the rest. A deserved win for him.
Here's the betting slips for both Woodland and Adam Scott:


Funny story in regard to the timing of that win. Usually when I fly, I go regular class(with the extra legroom). I'm really good at sleeping on flights so the benefits of first class aren't really there other than comfort.
Back in 2015 when I first started tipping LPGA, I got a $4225 win very early on with Cristie Kerr to win a tournament off a $100 bet. I was literally flying to Scotland 3 days after that, so with that nice little win treated myself to first class.
Well a family emergency has came up and I have to fly to Scotland tonight. So guess what? You got it – first class bookings both ways, not even thinking twice.
Thanks Gary & Adam!
Speaking of – that family emergency MAY mean no tips next week or even the week after. See how it goes. Honestly going over the golf numbers was a welcome distraction today.
No tips for the BMW International Open. The changes to the greens with Bentgrass, the players who may be suffering from jet lag, and the fact that there is no real consistent course form metrics have put me off that.
Let's get to it:
Travelers Championship 2019 Betting Tips:
Justin Thomas 18/1: 1/8u to win & E/W. This is one of those iffy ones where I'm not fully feeling it, but the metrics demand a play. 3rd place here back in 2016 but course form really hasn't been anything amazing. Not in the best form coming into this mainly due to injury. I like to think he looks at this one as a turnaround tournament. He suits this course well and as long as he is feeling it, should be a top contender. His injury still concerns me however which is why I've dropped it to 1/8u. Basically one where I'd be upset if I didn't back him.
Marc Leishman 28/1: 1/8u to win & E/W. This is a tricky one. His form coming into this is hot and cold but he shows up as decent enough on some of the metrics to where if he is hot, he should make a run for it. he won here back in 2012 but there has been changes since then to the course. Despite that he had two solid performances in 2016 and 2017. This is one where the price I don't even know if it's an +EV bet but another that I'd be kicking myself if I didn't have at least a piece of it.
Paul Casey 18/1: 1/4u to win & E/W. Casey bailed out of the Charles Schwab due to the flu but looked better at Pebble Beach. He's performed well here in the past, and I think he comes in prepared. He's got three top 5 finishes here (with two 2nds) in the last 4 years and I can see him adding to that.
Kevin Streelman: 60/1. 1/4u to win & E/W. Performed well here in the past with a win in 2013. Handles the changes well in 2017 with a Top 5 finish. Coming in hot after a 4th place at the Memorial tournament and his GIR % will help here.
Two other contenders metric wise are Patrick Cantlay and Brooks Koepka. I can't advise either due to their odds unfortunately but they might be decent bets to win.