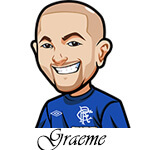 Follow @SBTSportBetting
Welcome to Wednesday, September 12th 2018.
It was a good week last week in the golf and CFL and yet could have been sooo much better.
The CFL saw me go 3-1 for the 3rd consecutive week and I have been just killing it lately. Hope to continue that this week.
Golf….well I did nail a 10/1 Top 5 Bet but boy that could have been sooo much better.
I had Justin Rose to win last week and he was sitting pretty unfortunately the weather delay messed things up and while he was able to force a playoff you saw he just didn't have what it takes.
I also had Tiger in the Top 5 and frustratingly Woods came 6th.
Oh well. Here's the Omega cash:


Nothing you can do about a shit show like last week. It happens. Onwards and upwards.
Golf Picks for September 12th, 2018
In the KLM Open Bet Predictions I am taking the following all to win and top 5:
Michael Lorenzo-Vera: How do I not back this lad again? He killed it last week and on top of that he has had some solid performances on this course. Gotta back him.
Lee Westwood: Combination of current form and playing well here before. Always gotta go with that.
Andrea Pavan: You never know how someone is going to perform following a win. After this win at the Czech Masters I thought he played decent enough last week. Good to back again.
George Coetzee: You could probably bet this guy every week and profit in the long run as he goes out of form then bursts back into it. Hoping the latter is happening and he comes out swinging here on a course I feel he is a good fit for.
In the Evian Championship over at the LPGA, I got the same bet type and I am going with:
Sei Young Kim: Cut last week but when you look at her past she's been pretty great with the bounce back. Some solid performances on this course and the price at +2800 is perfect.
Georgia Hall: Running hot and a good performance here previously. +2200? Yes please.
Lydia Ko: Nice price for her at a course she has always did well at even when she has been struggling.
Week 14 CFL Picks:
Alouettes +3: I mean just some exceptional performances from Montreal lately. Well maybe not exceptional but they are performing extremely well and have a run going. Bit concerned their momentum is dead but the rest may help, they may be pumped to go out here and the Lions have been weak all season long.
Stampders/Tiger-Cats Over 51.5 Points TiCats have one of the best offenses in the CFL and these two should have a big game here. Hamilton need the win and could go top of the East while Calgary always bounce back strong offensively. This has to be game of the week.
Roughriders -4 Happy to blindly bet Saskatchewan at the moment. Absolutely love the performances they have been putting in.
Follow @SBTSportBetting