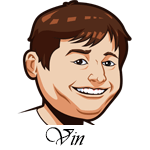 Follow @SBTSportBetting
A 2-1 record last night.
Sometimes it's better to be lucky than good. Last night the Diamondbacks were down 4-2 heading into the ninth inning and it looked like a loss for us. Then Christian Walker stepped up and hit a homerun to make it a run one game. Then a few minutes later, Jarrod Dyson of all people hit a two-run walk-off homerun. Dyson has a career OPS of .666 so there was clearly some devil magic involved here.
The Mariners continued to pay off for us. Marco Gonzales got another win here with six innings pitched, two earned runs and five strikeouts. Dee Gordon continued his rejuvenation with a 3-for-4 game including two RBIs.
Our loss was the Dodgers against the Cardinals. The Dodgers actually had more hits here, but they weren't able to string them together. The Bet MLB System actually likes them again tonight, but I just don't think I can justify it. Too many other good games tonight to bet.
Chicago Cubs vs. Pittsburgh Pirates Betting Tips:
I am just not trusting Yu Darvish right now. He's a good player and the injury history he's had is rough, but thus far I just can't trust him. He's made two starts and not made it past the fourth inning in either of them. He has 11 walks in the two starts which is a huge red flag and the strikeouts weren't there in his last start. I have serious concerns about him here.
He'll go against Jordan Lyles who had a 4.11 ERA/4.09 FIP last season. For all their issues with their pitching this season, the Cubs have hit the ball very well with a 123 wRC+ as a team.
I really have no idea why this total is set at seven runs. There is a high chance for the Pirates to send Darvish packing early and the Cubs offense is highly dangerous.
Bet Cubs/Pirates Over 7 Runs
Texas Rangers vs. Arizona Diamondbacks Betting Tips:
This is another one where I think the total is set too low. We saw some big scoring from these two yesterday and I can see that again here.
Robbie Ray is a big strikeout guy, but the walks are a huge issue. He walked five in each of his first two starts and is coming off a 2018 when he walked five per nine innings. He has amazing stuff and could strikeout 10+ here, but those walks are an issue and will keep his pitch count high. I can see him exiting before the sixth.
Lance Lynn goes for the Rangers and I'm a non-believer in him. He had a nice start his last time out, but was pounded for seven runs by the Cubs in the first start of the year. I am hoping for more of that first start to show up here as we go over. Plus, As we saw last night with these teams, the bullpens are not exactly trustworthy. I'm going over.
Bet Diamondbacks/Rangers Over 8 Runs
Seattle Mariners vs. Kansas City Royals Betting Tips:
I almost ignored this one as the line is a bit higher than the last two days (for no good reason) and Yusei Kikuchi had a rough one his last time out, but the Bet MLB System still loves them.
Kikuchi had a rough start last time out and his strikeouts have been a bit lower than I'd like. He's had some bad left on base percentage luck and I'm willing to take a flyer on him here. It helps that the Royals on the season have a 71 wRC+ against lefties on the year. As a reminder, 100 is average. 71 is really bad.
It also helps that the red hot Mariners offense faces Heath Fillmyer here. He made 16 appearances last year and posted a 4.26 ERA/4.75 FIP and this is his first start of the year. The projection systems see him as a 5-ish ERA guy and that will not play well against this offense. Mariners for the sweep.
Bet Mariners -150
Follow @SBTSportBetting