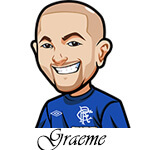 Follow @SBTSportBetting
The Masters kicks off tomorrow and I can't wait!
While from a betting perspective, I almost prefer the smaller tournaments – the odds at the top are brutal and there's not a lot of value – I always get excited for the Majors, and can't help but bet a ton.
It's just nice as there's so much more focus on it and more people are paying attention. I go to my local sports bar on any random week and I have to ask them to put the Valero Texas Open on one of their 80 TVs. The Masters? That'll be on all 80 TVs son!
I've got 4 main bets and then bets I consider long shots. I'm doing 1u bets, 1/2u bets and 1/4u bets.
I should also note the sportsbook I am betting at does Top 8 for E/W as opposed to Top 5, so that is a factor in the bets:
Rory to win. I really didn't think I'd take Rory to be honest. I felt the odds just weren't good enough. But the more I look at it it's his to lose. And if you go with him vs DJ I'm picking Rory all day long.
Rose to win & Top 8. How can you not bet Rose here? Has the experience, the ability and would be a shock if he wasn't contending.
Casey to win & Top 8. Paul is one of those guys where you really find it hard to see him winning but you also do think he'll be there or thereabouts at the end. Can't see him winning but do think he will get the place.
Kuchar to win & Top 8. I mean this is the easiest value bet I'll make in golf all year no doubt. He should be up there with the 25/1 guys and I'll hop all over that.
Then we've got the logn shots bet.
Cantlay to win & Top 8. This was a tough one but he kept coming up on the metrics and while his incoming form isn't great and he doesn't have an amazing Majors record, the price was just enough for the bet.
Hoffman to win & Top 8. This is a guy that should make the cut – and after that anything is good. If you can go in feeling confident that a guy will be there at the beginning of the third round it's always worth the bet.
Smith to win & Top 8. Cameron Smith had that sensational performance here last year coming 5th and is a good price. Weak form coming in but he's shown ability this year and worth the bet.
Fleetwood to win & Top 8. Has the ability. Still to really prove himself on the PGA tour for me though. But I think there's a small chance. Probably not an +EV play but I can't tear myself off it.
There was a few close ones. Rickie Fowler is an excellent pick…..if the odds are better. He's gotta win one and with the winds this weekend he could excel in that. Odds just not good enough.
Matsuyama just has a couple of negatives such as his putting. But if you back him I'd feel good about it. I don't have the best history with him betting wise lately so am staying away.
Finally if you're wanting to bet Tiger – go for it. From a betting perspective it's a crap bet. However from a historic perspective screw it – you want to be there with money riding on him at the local bar or golf club that day just on the off chance he makes it.
Follow @SBTSportBetting