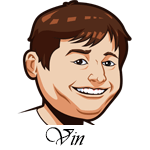 Follow @SBTSportBetting
An 0-1 record last night.
We took the Rockies last night on the belief that Jon Gray would have his best start of the season. Well, he did. He threw 6.2 innings and allowed just one run with six strikeouts. The only problem is that Jeff Samardzija was better with seven innings, seven strikeouts and zero earned runs. The final score, 1-0. The state of these offenses is just pathetic right now and I probably should've just stayed away. The Rockies have a 43 wRC+ thus far this season while the Giants have a 58 wRC+ on the year. When 100 is average, that's very bad.
Typical Friday night with a full slate. Some fun games that I am really excited for that I'll be staying away from. Especially excited for the Brewers and Dodgers, and the 13-2 Mariners facing the Astros.
Some of you might not like my tips today as I am laying the runs. It's just one of those days where all of the lines are matching my system and there is no over/under that jumps out to me. If you like laying the runs though, this is the day for you.
New York Yankees vs. Chicago White Sox Betting Tips:
I am going to go against Lucas Giolito until he proves me wrong. He had a 6.13 ERA/5.56 FIP last season and got rocked for five runs by the Mariners his last time out. This Yankees offense has some injuries, but it is still a very dangerous group. They are at home here and I like them to put a hurting on Giolito and the Sox here.
The Yankees will send J.A. Happ to the mound and he had a 3.65 ERA/3.98 FIP last season. He's yet to make it five innings this season which is somewhat worrisome, but that Yankees bullpen is so good that I'm not afraid. Happ is a good pitcher too and I think he'll start to turn it around sooner rather than later. I'm willing to bet that is tonight.
Bet Yankees -1.5 (-110)
Boston Red Sox vs. Baltimore Orioles Betting Tips:
This one is all about David Hess. The Red Sox offense is very potent, but has been a bit quiet this year. I think that Hess can wake them up. He posted a 4.88 ERA/5.80 FIP last season and his career walk rate is 3.24 per nine and he's allowed over 1.93 HR/9 over the past two seasons. This is a terrible match-up for him and the Red Sox offense should be hitting the ball hard here.
Eduardo Rodriguez goes for the Red Sox and he's fine. He had a 3.82 ERA/3.65 FIP last season, but he's struggled in his first two starts this year. He's going to be bouncing back and pitching like himself again here soon and why not tonight? This Orioles offense should be one of the worst in the league when all is said and done.
This line is slightly here than I'd like when laying the runs, but I really don't believe that Hess will last long here.
Bet Red Sox -1.5 (-130)
Follow @SBTSportBetting