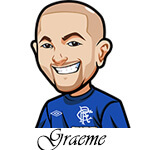 Follow @SBTSportBetting


[Get Exclusive Tips on our Patreon, Ad-Free
]
(Picture credit: Sports Illustrated)
The NBA playoffs start on April 13th with four games and I'm going to cover all four of those.
They are the 76ers vs the Nets, the Raptors vs the Magic, the Warriors vs the Clippers and the Spurs vs Nuggets.
I'll cover the other four in tomorrows post.
So how it works is I'll give series predictions for each series. Then me and Vin will be handling betting tips during the week and we'll give random game betting tips depending on how we feel.
So let's get to it with my series predictions. I discussed these all with Vin beforehand but these are my own picks:
76ers vs Nets Predictions:
Obviously the big story in this one is the health of Joel Embiid.
It's going to be a tough matchup but I do think with or without Embiid, Philly take it but the Nets battle them very hard.
Of course if Embiid is out….man, that could be bad news for the Philadelphia 76ers. That would be absolutely brutal for them if they go out due to his injury. If he comes back he won't be too healthy etc so that's a concern.
I think the Nets will be a tough battle for them regardless, and I'm going to back that this series goes 7 games for +275 odds.
Raptors vs Magic Predictions:
One of those series – like many in the NBA opening rounds – where it's not about who will win but how long will it take them to win.
Raptors are looking good. They have a solid team and have Gasol able to neutralize Vucevic. Last time out Raps crushed them and that was big. Raptors healthy will be a beast and with Siakam, Leonard and Lowry going to be helping out the bench that should be good too.
But Raps are Raps and I gotta think they blow one. Raptors gentlemans sweep. 4-1 victory in the series for +175.
Warriors vs Clippers Predictions:
Yep another "how long will it take them" and that's the Warriors of course.
They are a beast. I mean this isn't their best season but they're still the Golden State Warriors and they're going to be all out to take yet another Championship.
However they have had their issues this season and there's been complacency and just bad performances. Even when they are at their best, Warriors struggle to sweep teams and I can't see it happening here. Look at last seasons games for example.
I'm taking Warriors to drop a game but win the series 4-1. +180 odds here
Spurs vs Nuggets Predictions:
This should be a solid series I think. The coach battle will be fun as these two are besties. I think we're going to see one of those series where they just trade wins at home. The Nuggets have had their injury issues all season but they should be okay going into this one.
Spurs don't give away many free throws and the Nuggets don't get many so I think that'll be a factor that see the Spurs win at least one game – purely based on the free throw differential.
I'm going with Nuggets to win the series over the Spurs in Game 7 – bet that here at +325 odds.
Follow @SBTSportBetting