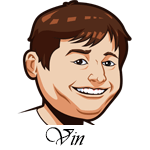 Follow @SBTSportBetting
A 2-2 night last night.
Maybe I need to take a break from unders. We are 2-7 when betting under thus far this season. Considering my overall record is 25-18, I think it's time to take a break from those. This league is just scoring runs at another level right now and I don't think I can trust the starters right now outside of a select few. Yesterday's Jays/Indians game was a great example of this as it went over before we even really had a chance. So, yeah, no more unders for a bit. That hasn't been a profitable play for us. 
The Yankees and Red Sox both won big. The Red Sox was my favorite pick of the day and that one was never in doubt. I liked the Yankees over the Tigers quite a bit too, but the bullpen really gave us a scare as they allowed five runs in the 7th and 8th innings to make this a two-run game. Aroldis Chapman shut it down though and we got the win. That bullpen has really not been as advertised early on this season.
Our other loss was the Brewers and that one killed me as I was debating between this and another game. I think I was putting too much faith in Zach Davies as he had another rough start. The Brewers offense did what I expected and nearly pulled this one out for us, but the damage was done. The Brewers defense had an error in this one that allowed an unearned run. They lead the league in errors and that unearned run could've been the difference in this one. They should probably stop doing that.
On to the next one. Saturday is always an early day in MLB so let's get right to it.
[text-blocks id="137″ slug="email"]
Colorado Rockies vs. Washington Nationals Betting Tips:
The Nationals are 6-8 on the season and far behind the first place Mets. There is a lot of season left to make up that ground, but this team could really use a win right now. Luckily for them, they have this guy named Max Scherzer pitching today who just so happens to be one of the best pitchers alive and the reigning Cy Young award winner. He has picked up right where he left off last season and has a 0.90 ERA/1.43 FIP in three starts this year. I am expecting another game from him today as the Rockies don't hit nearly as well on the road. I believe in Max Scherzer and I'm laying the runs here.
Bet Nationals -1.5 at: [text-blocks id="87″ slug="bet-mlb"]
Texas Rangers vs. Houston Astros Betting Tips:
We all know the Astros are amazing, but what if I told you they were somehow more amazing? I'm talking about Charlie Morton here. His velocity is up early this year and he hasn't allowed a run in his first 12 innings, striking out 13. This is supposed to be the fifth starter on this team and he's that good? That is dangerous.
He goes against Mike Minor today and I think the Astros offense is going to hit him hard today. They have some strong righty hitters and with Morton playing so well I am going to lay the runs here as well.
Bet Astros -1.5 at: [text-blocks id="87″ slug="bet-mlb"]
Toronto Blue Jays vs. Cleveland Indians Betting Tips:
I guess I am just going to lay all the runs today. Corey Kluber is on the mound for the Indians and he has also picked up where he left off last season. A 1.57 ERA/2.33 FIP to start the year and he did well in his lone start against the Jays last season. 'He's going against Jaime Garcia who should be hit hard by the Indians. Throw in the Indians awesome bullpen and this isn't a hard pick for me.
Bet Indians -1.5 at: [text-blocks id="87″ slug="bet-mlb"]
[text-blocks id="110″ slug="middle-ad"]
Follow @SBTSportBetting