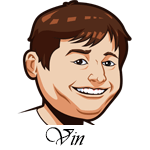 Follow @SBTSportBetting
A 1-2 record last night.
Last night we had maybe our worse loss of the season. We took the Athletics on the road over the Rangers. Entering the 7th inning it was 7-3, Athletics. Entering the 8th it was 7-4, Athletics. Entering the 9th inning it was 8-7, Rangers. Sigh. In the seventh, the Rangers had a win expectancy of just 6.1%. That one hurt.
We also had the Mets over the Braves and the bullpens hurt us again here. Jacob deGrom didn't have a great start, but the bullpen really exacerbated things with an additional four runs allowed and put this one out of reach.
Thankfully, we had the Cardinals who won 9-5. Marcel Ozuna hit two homeruns, and Matt Carpneter and Tyler O'Neill also went deep.
A few games I'm liking today. The NBA Playoffs started this week and I'm writing tips every day over at NBATips.net. Check that out if you're interested, but for now here's today's MLB tips.
New York Mets vs. Philadelphia Phillies Betting Tips:
The Mets burned us yesterday, but I am going back to the well here. The reason is Aaron Nola. He's a very good pitcher, but he has been hit very hard in his last two starts. He's allowed five homeruns and ten earned runs over the past two starts while only striking out five. Something is off with him right now and I am not trusting him right now.
Noah Syndergaard will go to the mound for the Mets and he's been very good to start the year. He's had some bad ERA luck, but his strikeout numbers are major and he's done a good job limiting walks and homeruns.
Bet Mets +100
Los Angeles Angels vs. Texas Rangers Betting Tips:
The Bet MLB System really, really hates Shelby Miller here. He's made two starts this year and only pitched 5.2 innings with six runs allowed. He's had a rough couple of years and even the kindest projections see him as a 5+ ERA guy.
Trevor Cahill is a very solid starter. He had a 3.76 ERA/3.54 FIP last season and he's picked up where he left off thus far this season. The Angels have ranked as one of the better bullpens thus far this season so hopefully a repeat of yesterday isn't in the cards here.
Bet Angels -124
Follow @SBTSportBetting