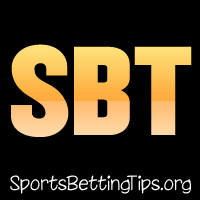 Follow @SBTSportBetting


[Get Exclusive Tips on our Patreon, Ad-Free
]
We were unified with our opinions last night on who would cover the point spread, and went 1-1 with the official tips.
We had the Philadelphia 76ers to bounce back after that loss to the Brooklyn Nets. They did so and just wouldn't let up. It was highlighted by a 51-23 3rd quarter in what was an insanely good performance. Philly just looked electric and it was a great ball game.
Then there's the Golden State Warriors.
We had the Warriors -13.5 and were pretty much counting our money. Then we just happened to see what was the biggest comeback in the playoffs in the history of the NBA. That's not hyperbole – that's a fact.
The Golden State Warriors blew a 31 point freaking lead.
What an absolute joke.
Tuesday, April 16th sees three Game 2s and following on from the Leafs victory last night, Toronto fans will hope the Raptors can channel the same energy into tonights performance.
Let's get to it:
Magic vs Raptors Betting Tips:
Graeme: The Toronto Raptors choking in the NBA playoffs never fails to be amusing. And this is coming from someone who lives in Canada and will generally root for the Raptors. It's one of those weird things where I'm cheering them on at point but cheering the opposition on when they blow it.
Losing in the first game is pretty standard for them. So how about Game 2? In 2017 they clawed back against the Bucks 106-100. In 2016 they beat the Pacers 98-87.
Looking at the Raptors results this season however paints a different story – they generally bounce back strong.
In saying that 10 seems like the right line. I'm close to backing the under but for me it's a No Bet day.
Vin: The difference between the Raptors and some of these other teams that lost in the first round is that they didn't play that bad. The first game came down to a final shot and D.J. Augustin made his, and Kawhi Leonard didn't. It very easily could've been Toronto absorbing the best shot and taking it. That would've really changed the narrative for this game.
That said, this is now a must win for the Raptors and the city of Toronto. Kawhi Leonard was fantastic in game one while Kyle Lowry did some of that playoff Lowry stuff that he's done in the past. Nick Nurse is a smart coach though and I'm expecting him to go with more Kawhi, more Pascal Siakam, and more Marc Gasol. He won't sit idly by and wait for Lowry to tank this run. The Raptors are winning today and winning big.
https://www.Bovada.lvBet Raptors -10
Spurs vs Nuggets Betting Tips:
Vin: This line is very high for the results of game one. I really like the Nuggets to even thing here, but -7 is a big ask.
Denver's bench outplayed San Antonio's bench in game one and the problem was with the gameplan surrounding the starters. There were some signs of success with Nikola Jokic feeding his teammates out of the post and I hope to see more of that here. At the end of the day this is still smart veterans versus inexperienced rookies. It's going to be a slug for both teams.
No Bet for me on this one.
Graeme: The Spurs won 101-96 in Game 1 on the road with a solid performance. That game will be eating away at Jamal Murray who missed that open shot. Hope he bounces back strong from that.
I think we saw a nice and disciplined performance from the Spurs. However the game plan goes out the window in Game 2 I always find.
Again it's a tricky point spread. But I think the Nuggets were unlucky last game, and come out motivated here and tie up a series I predicted to go broadway.
https://www.Bovada.lvNuggets -7
Thunder vs Blazers Betting Tips:
Vin: The injury to Paul George has been really underrated in discussion of this series. The Blazers tried to lose in the regular season to avoid this match-up, but won anyway and now it seems like this is their path to the Conference Finals (and maybe the Finals). This injury is that serious.
George has said he couldn't lift his arms above his head over the past week which is kind of important for basketball. He missed a ton of open looks in game one, shooting 4-for-15 from three and I just don't see that improving with his injury woes. They need him to win and I just don't see him being ready to go. Less George means more Russell Westbrook and I think that definitely plays into the Blazers hands.
And the Blazers are good! We underrate this team every year and Damian Lillard just keeps on doing it. This is a tough place to play at home and with all the injuries, I am going against my own pre-series pick and going with the Blazers.
https://www.Bovada.lvBet Blazers -1.5
Graeme: The Oklahoma City Thunder couldn't recover from a big start by the Blazers in Game 1.
Paul George declared himself ready to go for this one and is feeling good.
I like him to lead the troops to a solid and comfortable victory.
https://www.Bovada.lvThunder +2
Follow @SBTSportBetting