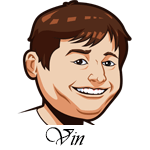 Follow @SBTSportBetting
The NBA playoffs are in full swing. Last night we saw the Golden State Warriors take a two game lead and neither game has been particularly close. All of the worries of the last few weeks of the season have seemingly faded away and the Warriors are back to being their scary selves. Last night saw a huge game from Klay Thompson and a vintage Kevin Durant performance. The Spurs just don't have the personnel to keep up in this series as they miss Kawhi Leonard badly.
Tonight, we have three games on the slate starting with the Wizards taking on the Raptors. Toronto finally broke their long game one losing streak and treated this game like it was the biggest of the series. I have to wonder if they'll play as well today now that the monkey is off their back.
We also have the Bucks vs. Celtics and Pelicans vs. Blazers tonight. Really interested to see how the Blazers react to their game one loss in this one. I'm expecting a big Damian Lillard game as he is a big time playoff performer and can carry this team at any time. That said, Anthony Davis isn't going anywhere. I am so excited for more of this series.
Notable Upcoming Bets:
NBA Betting Tips:
The line on this Wizards/Raptors game is huge and I just don't get it. The Raps needed a big second half comeback and some slips along the way from the Wizards. I feel like Washington really under performed in the first game and we should see better things from them in this one. I still believe that the Raps lack shooting and that it could come back to haunt them in this series. The Wizards +7.5 are a nice play tonight as I think they'll at least make a better game of it tonight.
I also like the Bucks +2.5 to if not win, at least get down to the final minutes. The Celtics played a great game in game one while the Bucks really struggled with fouls. I think the foul count should be about even for this one and that will lead to a much better fortune for Milwaukee. I'm expecting another huge Giannis Antetokounmpo game here.
Portland -6 is not losing this game. They are a tough home team and really missed some opportunities in game one. CJ McCollum and Damian Lillard both had poor shooting nights and I don't see that happening again. They only lost game one by two points and that was only after a really poor last shot of the game. I expect them to come out strong and make this a series.
MLB Betting Tips:
The Giants have been a pretty poor hitting team this season and really struggled against lefties with a .231/.294/.363 slash line. They face a pretty strong left handed pitcher today in Patrick Corbin on the road at the Diamondbacks. He goes against Johnny Cueto, who has looked fantastic, but I just don't think his offense does his any favors today and the Diamondbacks -127 grab the win.
Follow @SBTSportBetting