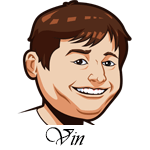 Follow @SBTSportBetting
A 2-0 record last night!
How funny is it that I picked the Jays game to avoid any weather conditions and the game got postponed? They play in a dome and still had snow falling through the roof. What is going on in Toronto? First, the Raptors stadium was leaking before game one of the playoffs and now the Rogers Centre is dropping ice through the roof. Get it together, Toronto!
Thankfully, our other two games came in and they weren't even close. The Yankees absolutely pounded the Marlins. That's what happens when you put this strong right handed lineup against a bad lefty in that park. Spoiler alert: It's going to happen again tonight.
Our other pick was the Rays -1.5 over the Rangers and this one came in as well. Blake Snell pitched an awesome game while Martin Perez pitched a terrible one. It really gave me pause when I looked at the lineup of the Rays, but that didn't stop them as they won 8-4.
A great night all around. Let's keep it going with some more wins tonight.
[text-blocks id="137″ slug="email"]
New York Yankees vs. Miami Marlins Betting Tips:
Yep, we're going back to the well on this one. Masahiro Tanaka is on the mound and he's going against a lefty. You know what this Yankees offense is capable of against lefties and they should do exactly that against Jarlin Garcia. Lay the runs.
Bet Yankees -1.5 at: [text-blocks id="87″ slug="bet-mlb"]
Cleveland Indians vs. Minnesota Twins Betting Tips:
I've been trying to bet Corey Kluber in this start since Sunday and today we finally get our chance. The Twins offense is tough, but Kluber is seemingly immune to good offense. This game will be played in Puerto Rico which I think really benefits the Indians offense against Jake Odorizzi. He's a flyball pitcher and this one should be warm and humid which helps the ball carry. He hasn't been punished by the flyballs early as he's played in some seriously cold weather early, but that won't be the case here. I like the Twins offense in this one nearly as much as I like Kluber. Lay the runs!
Bet Indians -1.5 at: [text-blocks id="87″ slug="bet-mlb"]
Chicago Cubs vs. St. Louis Cardinals Betting Tips:
I really like the Cubs offense to hit Adam Wainwright in this one. He finished last season with a 5.11 ERA/4.29 FIP and has picked up right where he left off this year. Through two starts those same stats are 5.06/5.33 and he faces a tough Cubs offense today. His strikeouts are really down and he is just not a starter that I feel like I can trust here.
He goes against Tyler Chatwood who the Cubs signed this offseason to be a backend of the rotation starter. For his career he has a 4.32 ERA/4.57 FIP so you pretty much know what you are getting. There will be walks and the strikeouts won't be that impressive.
Based on these two starters, I have no idea why this line is so low. Yes, this game will be a bit chilly but nothing that scares me off. I think both teams will hit well in this one and these rivalry games always seem to have higher scores. I think we're looking at an over here.
Bet Cubs/Cardinals Over 7.5 Runs at: [text-blocks id="87″ slug="bet-mlb"]
[text-blocks id="110″ slug="middle-ad"]
Follow @SBTSportBetting