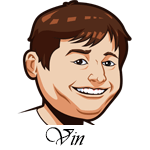 Follow @SBTSportBetting
Tonight is an absolutely huge night for the Toronto Raptors and Milwaukee Bucks series. The Raptors made some really big moves at the deadline to make this team compete this year and possibly make a run at the Eastern Conference, but instead could find themselves down 2-1 to an upstart Bucks team tonight. If they lose, they have to consider themselves in big trouble. The Bucks have looked great thus far and there is definitely the smell of an upset in the air. Milwaukee's home crowd will be rocking and Toronto needs to show something tonight to save their season. If they don't, this could be the end of the Dwayne Casey coached, Kyle Lowry and DeMar Derozan led Raptors.
Two teams without that problem are also in action tonight as the Cavaliers and Spurs both look to take a 3-0 lead on the road. The two seeds in each conference would love to get this first round over with quickly.
Notable Upcoming Bets:
NBA Betting Tips:
Maybe Lowry and DeRozan just don't translate to the playoffs. Of players with 500 career playoff shots, these two both rank in bottom 20 in effective field goal percentage with DeRozan being in the bottom five. Serge Ibaka bailed this team out in game two and that will be harder to do with a loud Milwaukee crowd. On the other side of the coin, you have Playoff Giannis(!) who is currently fourth in effective field goal percentage in this year's playoffs. It's weird to say since Toronto is the deeper, more talented team but it just feels like Milwaukee is better built for the playoffs than Toronto. Having the best player on the court can do that for you. Bucks -1.5.
The Cavaliers should sweep this series. The defensive issues with this team are real, but that doesn't really matter when Indiana can't defend them. The Cavs get whatever shot they want at any time. These first two games have been close, but they haven't really been close. Cleveland -2 is just better and they should roll tonight.
One team I do expect to fight back is the Memphis Grizzlies. Their coach David Fizdale had a legendary rant against the officials that cost him $30,000, but that should be worth it as I expect this team to get a lot of calls tonight. That's sadly how these things work. This team is tough and it's hard to imagine them being swept. I think they fight back and grab one tonight. Grizzlies +3.5
NHL Betting Tips:
Can you really imagine the Blackhawks getting swept in the first round? This was the best team in the Western Conference all season and they had the third best record in the NHL. They haven't looked great, but this is a team that has won Stanley Cups and been in tough playoff situations. I have to think they are going to win at least one. Chicago +130
MLB Betting Tips:
The Padres have won a few games early, but this still should be the worst team in all of baseball. They just aren't very talented and the Diamondbacks are. Clayton Richard looked good in a couple of starts, but Paul Goldschmidt and AJ Pollock kill lefties and I like this team a lot tonight. This line is way too low as I think the Diamondbacks -111 are a lock in San Diego.
James Paxton of the Mariners has yet to allow a run this season and he's pitching at Oakland which is famous for suppressing runs. He's also pitching against Oakland. He'll go against Cesar Valdez who is 32 and hasn't pitched in the majors since he was 25. I think Valdez is a nice sleeper going forward, but this is Paxton's world right now. Mariners -142
Follow @SBTSportBetting