April 22nd, 2019 Betting Tips: NBA, NHL, MLB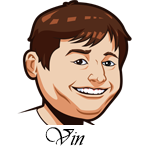 By
I had written off the Sharks in this series with the Golden Knights, but they came back last night with one of the most impressive wins in franchise history. The Knights had more shots and dominated time of possession, but Martin Jones was a brick wall. The game ended up going to double overtime and the Sharks were exhausted. The first ten minutes saw them not put a single shot on goal. Didn't matter. A shorthanded goal by Tomas Hertl was all they needed and we are going to a game seven.
Yesterday in the NBA saw the Blazers take a dominating 3-1 lead in their series against the Thunder. The Oklahoma City team talked a lot of stuff during and after game three, but the Blazers didn't let it faze them. Damian Lillard continued to prove that he is one of the best point guards in the NBA and he now has a rather clear path to the Western Conference Finals. Don't sleep on the Blazers.
#1 Sportsbook Online for Americans

Good deposit bonus, lot of unique bets & props. Excellent mobile & live betting.
NBA Playoffs Betting Tips:
Houston Rockets at Utah Jazz: The Rockets practically gift wrapped game three for the Jazz and Utah couldn't get it done. James Harden started the game 0-for-10 and clearly didn't have his usual magic and it didn't matter. The Jazz couldn't capitalize on it and the Rockets just seem to have it right now. To me, that was the game they were going to steal if they were going to steal one. Now it seems that they won't and the Rockets will close it out here.
Milwaukee Bucks at Detroit Pistons: The Bucks have won every game of this series by 16 or more points. Despite that, the line is still just -12.5 here. This team definitely has their eye on the prize and is better than the Pistons at just about every position. I find it real hard to think that the Bucks won't be locked in here and finish this series.
NHL Playoffs Betting Tips:
Nashville Predators at Dallas Stars: The Stars have really stormed back in this series, winning the last two games. Now they have a chance to close it out at home. I think this team knows that if they don't do it here they are going to have a very hard time doing it on the road in game seven at Nashville. All of the momentum is on their side right now and this is a team that just seems to continue to get better. I am all over the Stars here.
MLB Betting Tips:
Philadelphia Phillies at New York Mets: The Phillies have started out strong in the Bryce Harper and a big part of that has been the pitching. Jake Arrieta has had a great start and he's posted quality starts in all four of his starts this season and already has a win against this Mets team this season. I like the way he's pitching here and I really like the match-up of the Phils offense against the lefty Steven Matz.
#1 Sportsbook Online for Americans

Good deposit bonus, lot of unique bets & props. Excellent mobile & live betting.