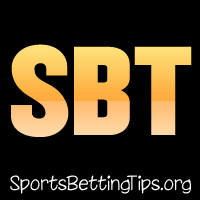 Follow @SBTSportBetting
A 1-1 day with our unanimous betting tips.
We both had the Raptors -5 and they did the job with ease. A 107-85 victory and they'll head back to Toronto to RAP it up.
The Warriors got the win but we had them -8.5 and they won by 8. Such is life.
Graeme was spot on with the tip of the Celtics to cover although it was close. Celtics won 110-106 and eliminate the Indiana Pacers from the NBA playoffs.
Big win for the Blazers and looking at things it looks like they'll be taking this series.
For Monday, April 22nd we can see two other teams eliminated as we have game 4s in Detroit and Utah.
Milwaukee Bucks vs Detroit Pistons Game 4 Betting Tips:
Vin: Bring out the brooms! Bring on the Celtics!
The Bucks are going to finish this series tonight. Detroit got Blake Griffin back for their first home game in game three which was huge for them and they still lost by sixteen points. They are just outmatched in every way and the Bucks absolutely
have their eye on the prize.
There were a lot of questions about Eric Bledsoe heading into the playoffs and he has fully answered them. Khris Middleton has continued his trend of being a sharpshooter in the playoffs. Everyone on this team has been so good that we've barely seen Giannis Antetokounmpo dominate. He's scoring 21.3 points per game with 13 rebounds in this postseason in just 27 minutes. I can't wait to see what he does in more time. Al Horford should be having nightmares right now.
I could see this being the Pistons best played game in the series and they could tease it being close. That said, Bucks by 15.
Bet Bucks -12.5
Graeme: You have to wonder how Detroit are feeling in this game. It's do or die. The question is will they "do" or are they already prepared to roll over and die?
It's a big question. In my opinion the sportsbooks want you to bet the Pistons which is why we've got such a crucial game requiring their best performance, yet getting 12.5 points.
I think mathematically the right bet is still the Pistons to cover the spread. But I can't advise that. I'll probably throw money on the Pistons money line because I hate money. No Bet
Houston Rockets vs Utah Jazz Game 4 Betting Tips:
Vin: The Jazz need to be put out of their misery. Their defense and the luck gods conspired to have James Harden start the first half 0-for-10 and end the game 3-for-20. They still lost. That is tailormade for a Jazz win and they squandered it.
I really had high hopes for this team to make a series of it, but that was just not in the cards. They lack talent on the wing for a playoff series. Plus, this is just the absolute worst match-up for them in the first round. Or anyone. The Rockets are a machine. The Rockets are going to the second round.
Rockets -2.5
Graeme: If there was any game for the Jazz to win, it'd be the last game.
I think this is a team that will be dead today. They just know they're screwed. Not really much to say here – I just can't see the Rockets losing this. I think they win by double digits.
Rockets -2.5
Follow @SBTSportBetting