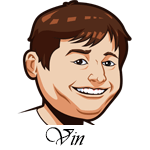 Follow @SBTSportBetting


[Get Exclusive Tips on our Patreon, Ad-Free
]
The NFL Draft is tomorrow and the GMs are ready. I posted some NFL Draft betting tips over the weekend and I have a couple more for you today.
The big news in the NFL this week is Rob Gronkowski getting traded to the Tampa Bay Buccaneers. Gronk didn't play last season, but a return from him has always been expected (even as he was winning the WWE 24/7 title.) The Patriots got a 4th round pick for their troubles and it seems like a good deal. Gronk seems to have only wanted to play with Brady so they got a 4th round pick for basically nothing.
The closer we get to the draft, the more locked in the top two picks become. Joe Burrow to the Bengals is the lock of the century and Chase Young feels like he will go second. In my NFL Draft tips, I thought that Tua will go third and he definitely should go third if teams know what's good for them, but I am having doubts about the Lions trading so I will be hedging that bet below.
Tomorrow could be a big day for draft day trades. Yannick Ngakoue is a great value and is in a public feud with the Jaguars. They want a first round pick out of him so we'll have to see who is interested come tomorrow. Jamal Adams of the Jets is another name I would look to be on the move.
This may be the biggest NFL Draft ever just based on the state of the world right now. I think that whoever gets Tua Tagovailoa is in for a real treat as everything I hear about this guy's potential is just amazing. He's been compared favorably to Dan Marino and Aaron Rodgers. While I think Burrow will be good as well, comparisons to Tony Romo just do as much for me as those other two do.
Notable Upcoming Bets:
NFL Draft Betting Tips:
I posted in the NFL Draft tips that I liked the top three picks exact order to go Burrow-Young-Tagovailoa. You can still get that at +375, but I have grown less sure that the Lions are going to trade out so I think it's worth a hedge by betting on Burrow-Young-Okudah as the top three. The team is in need of a cornerback and Jeffrey Okudah is the best one available.
The best running back in this draft is D'Andre Swift and you can get somewhat decent odds betting him as the first one taken. It's -175, but I would place the odds closer to -500 as far as him being the first one taken. I think he's better than Jonathan Taylor and more highly regarded.
Bet D'Andre Swift – First Running Back Taken -175
CS:GO Road to Rio Betting Tips:
This is an afternoon match, but I really like the odds on it. Cloud9 is a big favorite against Triumph, but I think they should be an even bigger favorite. This team has a strong potential to sweep this match and that's exactly what I'll be betting here.
Follow @SBTSportBetting