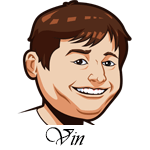 Follow @SBTSportBetting


[Get Exclusive Tips on our Patreon, Ad-Free
]
And we're back. I decided to take a personal day yesterday and skip the tips. There wasn't much I saw on the schedule to interest me and I just felt like taking the day to do some other projects. So I did.
I probably should've taken that free time yesterday to update the season record. I know we are winning, but I'd like to know how much. That's on the to-do-list for this week so we can all look forward to that. We might as well get a few more wins first while we wait.
Anyways, we're back today with a full slate of MLB games.
Chicago White Sox vs. Baltimore Orioles Betting Tips:
Andrew Cashner has long been a target of mine and 2019 is no different. He's posted a 4.97 ERA/5.90 FIP thus far this season with low strikeouts, high walks, and a high HR/9 rate. He's exactly the profile of a pitcher that I like to target in my picks. The White Sox offense has been over performing to start the season with Tim Anderson and Yoan Moncada having hot starts. If those two can be above-average players this season, this team might have something.
The Sox send Ivan Nova who has been solid. Well, that's not fair. He's been very good with his peripheral stats, but his ERA is not good. He's posted a 6.23 ERA/2.36 FIP and is due for some regression. The Orioles stink and I think he will get some here.
Bet White Sox -138
Los Angeles Dodgers vs. Chicago Cubs Betting Tips:
This is a game that the system likes that I really had to stop and study. Jose Quintana has been a lot better this season than the last couple of years. He's posted a 3.43 ERA/3.20 FIP thus far with some huge strikeout numbers.
Kenta Maeda is pretty solid for the Dodgers with a 3.80 ERA/4.88 FIP line. His road starts have always been trouble for him and the L/R splits aren't great. The Cubs have been very good against righties this year with a 115 wRC+.
I don't 100% trust the Cubs bullpen here, but if Quintana can miss bats and Maeda continues to struggle then the Cubs are a good value here.
Bet Cubs -108
Washington Nationals vs. Colorado Rockies Betting Tips:
A big asterisk on this one due to Coors Field, but I like Patrick Corbin and the Nationals here. Corbin has done very well in his time with the Nationals thus far with a 2.36 ERA/3.25 FIP on the young season. He misses bat in a major way which definitely helps in Coors Field. While the Rockies have continued to be one of the worst offenses in all of baseball early.
Chad Bettis has posted a 7.27 ERA/4.83 FIP in five games this year. His true talent is about in the middle there as he had a 5-ish ERA/FIP last season. He doesn't really strike anyone out and walks too many. He's my favorite kind of target and the Nationals are the much better offense here. Easy money.
Bet Nationals -137
Follow @SBTSportBetting