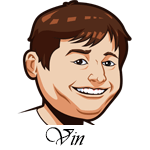 Follow @SBTSportBetting
The NFL Draft is finally here. Today we'll see the first round of the draft and I'm sure there will be plenty of drama involved with it.
A story came out that the Dolphins had interested in trading for the Bengals top pick, but were rebuffed. Both of these teams need a quarterback and the Bengals have been strongly linked to Joe Burrow for months now. Miami has three first round picks, number 5, 18 and 26, and were hoping to move up and grab the LSU Heisman trophy winner. The Dolphins were linked to Tua Tagovailoa all season long, but the injuries have really messed with the perception of him.
Tua has the best arm in this draft, but he's left handed and he's on the shorter side. These things are definitely holding back some teams and the rumors of him falling are out there. The Dolphins are almost definitely grabbing a quarterback in the first round and the only question seems to be whether they are able to trade up or not.
The CS:GO Road to Rio continues today. We took the loss there last night, but we've had some good success with this league in the past and we'll be going right back to it today.
Notable Upcoming Bets:
NFL Draft Betting Tips:
Make sure to check out our complete NFL Draft Betting Tips!
The subject of who will be the second quarterback taken between Justin Herbert and Tua Tagovailoa is one that is really picking up a lot of steam right now. I think this is a bad idea all around, but it is where the NFL is heading so we have to go that way with it. The bias against lefties is a real thing in this league and some teams are probably not even willing to give it a chance.
If you are interested in betting on the second and third quarterback taken, the best value has to be in the "Third Quarterback Drafted" odds. For second QB drafted, the odds on Justin Herbert are +120. For third QB drafted, the odds on Tua are +165.
So if you think that Herbert will be the second QB drafted, the smart move would be to bet Tua at the higher price. I know these teams are biased against lefties, but I really can't imagine anyone going so far as to take Jordan Love over Tua. Sorry, Jordan.
CS:GO Road to Rio Betting Tips:
We're looking at Envy vs. Furia here and it is both teams first night in the qualifiers. Some people might think they are going in cold or whatever, but I don't buy that logic. These teams have been practicing hard and I believe they will do their best here. It, of course, depends on who the teams pick, but I believe if Furia goes with Nuke that it will be an easy win. One of the better players in the game and I think they can get the 2-0 win here.
Follow @SBTSportBetting