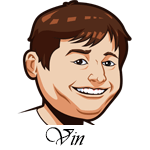 Follow @SBTSportBetting
A 2-0 record last night.
I have to admit some luck involved with the Yankees win over the Angels. Andrelton Simmons took CC Sabathia twice and Kole Calhoun added another homerun to make this one 5-0. I had pretty much written it off by this point, but the Yankees climbed back. DJ LeMahieu led the way with the bottom half of the lineup picking up the slack as the Yanks scored six unanswered. Aroldis Chapman came in for the close and that was all she wrote.
Our other pick was rather simple as the Phillies dominated the Mets. Bryce Harper had an RBI double in the first and that ended up being all that was needed. Vince Velasquez pitched five shutout innings and the bullpen did the rest.
A very short slate tonight as most teams are off for travel. It's one of those days where everything is either a coin-flip or in that space where the moneyline is too big and the runline isn't strong enough. That said, I do have the one tonight.
New York Yankees vs. Los Angeles Angels Betting Tips:
Trevor Cahill has had a rough season to start with a 5.47 ERA/6.23 FIP. It's been the long ball that has been a problem for him as he's allowed a homerun in four of his five starts this season and five homeruns over his past two starts. This Yankees offense, even in its weakened state, can hurt as we saw last night and I think they do just that here.
I perhaps overrated Sabathia a bit last night, but Masahiro Tanaka has a much better track record here. He's posted a 2.76 ERA/3.35 FIP thus far this season and the groundball rate has been fantastic. The Angels have the lowest strikeout rate in the league which means they make a lot of contact. That contact being on the ground can only benefit the Yanks here. Plus, that bullpen didn't even use most of their big arms last night outside of Chapman. This game is theirs for the taking.
Bet Yankees -110
Follow @SBTSportBetting